Start Your Agency With Confidence
The Complete Package to Start and Grow the Digital Marketing Agency of Your Dreams.
Let's Build an Unstoppable Agency Together
Are you ready to start, grow, and scale your own agency at lightning speed? Imagine where you could be in just one year from now. Will you still be struggling to make your digital agency work, competing against more experienced players? Or will you be enjoying the rewards of your hard work, living the lifestyle you've always dreamed of, fueled by your thriving business?
Every minute you delay starting your dream agency is a missed opportunity to unleash your true potential and make a significant impact. Businesses are in need of your services, and they are looking for someone who can step up to the challenge. That someone could be you.
Welcome to the START™ Program at Clickx, where we provide you with the tools, resources, and guidance to build a scalable and profitable agency in just 90 days.
90-Day Access: Experience Clickx for free, giving you ample time to explore its capabilities and witness its impact on your agency's growth.

Agency Website Design: We will build you a stunning website that showcases your expertise and attracts high-ticket clients.

Weekly Sales Coaching Calls: Get access to our expert sales coaches who will guide you through the proven SCALE Sales System, empowering you to close deals with confidence and consistency.

Lead Generation: Learn how to generate high-quality leads using inbound ads and outbound email prospecting, unlocking a steady stream of potential clients for your agency.

Complete Fulfillment Support: From setting up a CRM to accessing hundreds of case studies, prebuilt niche funnels, client portfolios, templates, and documents, we provide you with all the resources you need to deliver exceptional results for your clients.
It's time to take control of your agency's destiny. Join the START™ Program at Clickx and ignite your agency's success. Don't delay, as opportunities like this won't last forever. The journey to $10K/month starts here.

Ready to START your transformation? Sign up for the START™ Program and let's accelerate your agency's growth together.
Free Training for New Agency Owners
How To Go From Zero To $10K/mo in 90 Days Even if you don't have a Niche, Product, or a Single Customer yet.
There Are Numerous Niches in Which You Can Start a Marketing Agency
Unlock the potential to generate a monthly revenue of $10K and beyond with our comprehensive support in lead generation to sales
Join our Clickx Fulfillment Network and unlock unlimited potential and flexibility, setting your own rates while working from anywhere.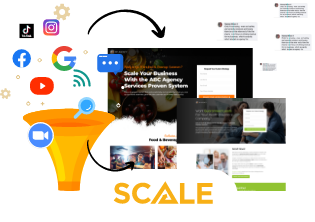 Confidently add an extra $30K - $50K/month in recurring revenue with our support in lead generation, sales and strategic coaching.