White Label Meta Ads
Dominate the Competition with the #1 Meta Ad Agency: Proven Success and Unparalleled Expertise
Landing Page Optimization
Register for a Free Account
Form
I'm Looking to
Scale My Agency
Interested in scaling your agency's revenue to $10K or even $100K? Explore how we assist agency owners, just like yourself, from Lead Generation to Sales to Fulfillment. Discover if the SCALE Program, with 1:1 coaching and training, is the right fit for you.
I'm Looking for
White Label Fulfillment
Are you getting stuck doing all the work? Explore our white label fulfillment platform, covering Google and Facebook Ads, SEO, and more. Our team of contractors is here to help you scale effortlessly.
At Clickx, we understand the challenges of scaling Meta Ads. With years of experience managing thousands of campaigns, we know that it can be difficult to reach the right people, optimize your campaigns, and maximize your return on investment. That's why we offer white label meta ads services to help agencies and their clients get the most out of their Meta Ads. Our team of experts is equipped with the tools and data to create engaging and high-converting ads, test different ad options, optimize campaigns, budget wisely, track performance, and generate detailed reports. With Clickx, you can rest assured that your Meta Ads campaigns will be managed in a professional and efficient manner, helping you reach your desired objectives.
What our White Label Meta Ads include:
Research and identification of target audiences.

Development of engaging ad copy and visuals to capture the attention of the target audience.

Experimentation with different ad options in order to determine the best performing ads.

Constant monitoring and adjustment of campaigns to ensure maximum performance.

Strategic budget allocation to maximize return on investment.

Tracking the effectiveness of the ads with detailed analytics.

Generating detailed reports to track progress and identify areas for improvement.

Analysis of the results of the campaigns and adjustment accordingly.

Ongoing communication to provide updates and answer any questions.

Staying up-to-date with client's industry trends and best practices.
Targeted Audience Discovery
We use powerful tools and data to identify and reach the right people for your client's business. Our team of experts can help you target potential customers who are likely to respond positively to your white label Meta Ads, allowing you to maximize your return on investment.
Engaging Creative Design
We specialize in creating engaging and high-converting Meta Ads. Our experienced team of creatives can help you develop ad copy and visuals that will capture the attention of your target audience. We'll work with you to develop ads that are consistent with your brand and will help you reach your desired objectives.
Continuous Performance Optimization
We are committed to constantly monitoring and adjusting your campaigns to ensure maximum performance. We use detailed analytics to identify areas for improvement and make sure that your Meta Ads campaigns are running at their best.
Optimized Testing
We understand the importance of testing different versions of ads to determine which ones work best. Our team of experts can help you test different ad options and use the data to optimize your campaigns and maximize your ROI.
Performance Tracking & Analysis
Our team at Clickx knows the importance of tracking the effectiveness of your ads. Our team of experts can help you measure the performance of your campaigns with detailed analytics, so you can make sure that you are getting the results you want.
Strategic Budget Allocation
At Clickx, we understand the importance of spending wisely. We can help you allocate your funds efficiently to ensure that you get the maximum return on investment from your Meta Ads.
Data-Driven Reporting & Insights
Clickx understands the importance of reporting. Our team of experts can help you generate detailed reports to track the progress of your campaigns and identify areas for improvement. We can also provide you with regular updates on the performance of your ads, so you can make sure you are on the right track.
Apply to Become a Partner
#1 White Label Digital Marketing Platform and Fulfillment Support
Unlock the potential to generate a monthly revenue of $10K and beyond with our comprehensive support in lead generation to sales
Join our Clickx Fulfillment Network and unlock unlimited potential and flexibility, setting your own rates while working from anywhere.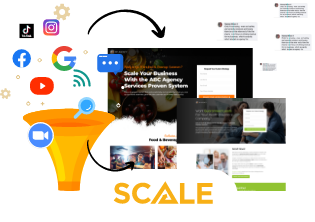 Confidently add an extra $30K - $50K/month in recurring revenue with our support in lead generation, sales and strategic coaching.