White Label LinkedIn Ads
Use the Power of the Worlds Largest Professional Network to Target Qualified Leads
Sponsored Messaging & Text Ads

Reach Top Decision Makers
Register for a Free Account
Form
"Clickx is the company I wish I had when I started over 15 years ago."
-Solomon Thimothy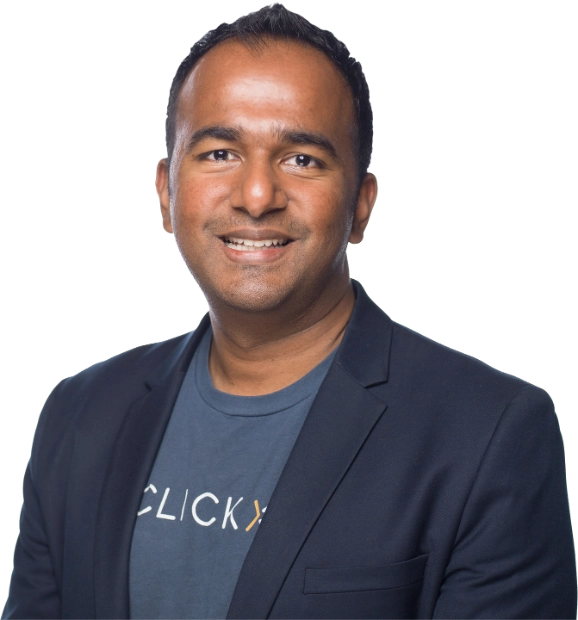 Wanna See Clickx in Action?
See how we make agency scaling easy!
Watch a Walkthrough of Clickx!
Dedicated Account Managers

Advanced Audience Targeting

Insight Tag Setup/Installation

Your Agency LinkedIn Account
Get Right Down To Business On The World's Largest Professional Network
If there's one platform B2B agencies can rely on for qualified leads it's LinkedIn.
With over 690 million active professionals using the platform to network and share information, opportunities are endless.
Powered by Campaign Manager, LinkedIn's all-in-one advertising platform, brands can set a budget, select goals (clicks vs impressions), and have complete control over a campaign's timeline.
By taking advantage of LinkedIn, marketers are seeing 2X higher engagement and therefore, conversation rates.
Our team gives your agency key insights into targeting the right profiles, so you're not wasting time with middle-men. When it comes to LinkedIn etiquette and professionalism, you should rely on proven processes. The right interactions should add positive correlations to your client's brand (as well as your own).
Settling for anything less is simply unacceptable.
Whether you're aiming for increased brand awareness, consideration, or conversion, Clickx has the tools and expertise to make sure LinkedIn becomes a key contributor to your or your client's success.
LinkedIn Targeting: Reach Decision Makers
Go deeper into your ideal customer's psyche by combining criteria targeted at IT decision makers, C-level executives, small business owners, and more.
Clickx and its team of contractors uses this member-generated demographic data to reach the right audiences.
What kind of reach can you expect with LinkedIn's network capabilities? With 180 million senior level influencers, 63 million decision makers, and 10 million c-level executives using the platform, you can use highly-targeted tactics to reach the right leads. It's what we call total platform optimization.
Sponsored Content To Warm Leads
Effective advertisements help build brand awareness, create interest, and drive traffic to a client's website. LinkedIn targeting exceeds those standards.

Targeted correctly, this highly engaged audience is ready to take action at every step of the sales cycle.

Clients have the option to portray their brand in a multitude of ways. Whether with a single image, video ads, or a carousel, they can command the attention of an action-oriented audience.

What's more, clients have the option to run ads on their news feed with lead gen forms that capture new customer data with ease.
A Step-Further: Sponsored Messaging & Text Ads
WIth an ability to send one-on-one messaging, your client will have confidence knowing their outreach efforts are going to the right targets.

Clients can enable event registration, promote a free product trial, or educate targets on various offerings all through direct messaging. Including lead gen-forms and automated calls-to-action, clients will save both time and money.

Text Ads also allow users to set their own budget and control costs with pay-per-click (PPC) or cost-per- impression (CPM) pricing options.
LinkedIn Dynamic Ads To Hit Every End-Point
Nothing captures the attention of a prospective target bettan than an advertisement with their name on it.

With LinkedIn Dynamic ads, clients can create personalized ads that feature each professional's own LinkedIn profile data, photo, company name, job title, and more.

Need more convincing? LinkedIn has ads for every solution:
Follower ads to expand your audience using organic content.

Spotlight ads feature a client's product, service, event, newsletter, and more with a clear call-to-action.

Generate leads when members download specific content – sending an email straight to your clients CRM
Apply to Become a Partner
#1 White Label Digital Marketing Platform and Fulfillment Support
Unlock the potential to generate a monthly revenue of $10K and beyond with our comprehensive support in lead generation to sales
Join our Clickx Fulfillment Network and unlock unlimited potential and flexibility, setting your own rates while working from anywhere.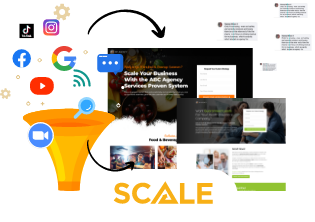 Confidently add an extra $30K - $50K/month in recurring revenue with our support in lead generation, sales and strategic coaching.