4 Tips to Optimize Your Business Website With a Free SEO Analysis
Your business needs a lean, mean, fighting machine of a website that serves a purpose and serves it well. A hugely important element in ensuring your site does its job is Search Engine Optimization (SEO). Of course, with so many SEO factors to consider, it's no wonder you're not sure where to begin!
That's where free SEO analysis tools step in to pull all the pieces together, giving you somewhere to start. These can show you what you're doing right and where you can improve, and even offer tips to help you fix certain elements. Here at Clickx, we offer our very own free SEO grader test, so businesses like yours can begin the optimization journey without stretching your budget.
In this post, we'll explain why you should consider running a free analysis using the Clickx SEO Grader. We'll also show you how to use it and suggest what to do with the results. If you're ready to optimize your website using some in-depth SEO analysis, let's get started!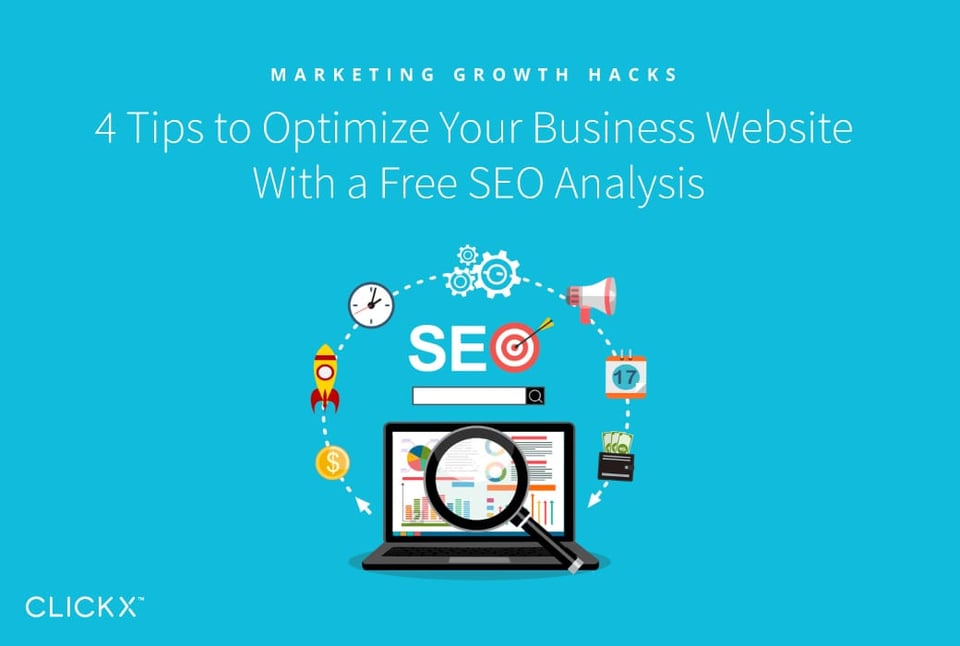 Key Takeaways
Running a free SEO grader test is an inexpensive and low-risk way to begin optimizing your site.
Knowing your top keywords can help you better understand how customers find your website.
Seeing where your backlinks come from will help you decide which relationships you should build upon.
Why You Should Run a Free SEO Grader Test (And How To Do So)
The Clickx SEO Grader is a little bit like running a background check on your website—it investigates things like backlinks, internal links, and how old your domain is. On top of that, it analyzes the quality of your content and checks for a myriad of on-page ranking factors, such as image optimization.
[Tweet "Running an SEO analysis is like doing a background check on your website."]
After running this test, the Clickx SEO Grader creates an organized report that shows you what you're doing right and where you can improve.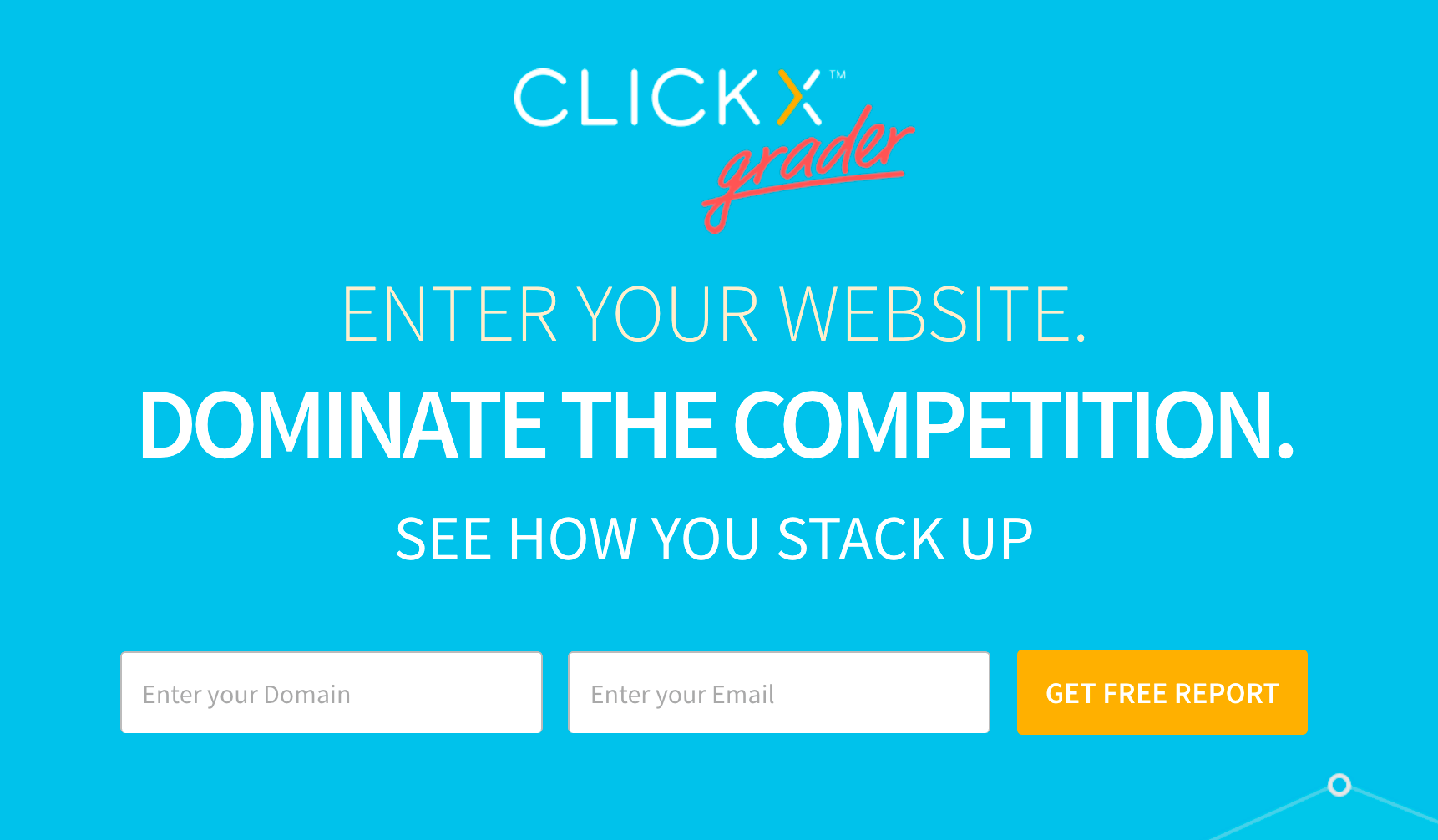 Running the report is super simple using the following steps:
Visit the Clickx SEO Grader homepage.
Insert your business' domain name and your email address.
Click Get Free Report.
Wait for your confirmation email.
Click on View Report within the email.
And there you have it—a full report of your detailed site analysis. It really is that simple.
4 Tips to Optimize Your Business Website Using Your Test Results
Now that you have your report in hand, it's time to begin your analysis of the data. Below we've featured our top tips for interpreting the results.
Tip 1: Review Your Top Keywords
Keywords are the phrases people search for when they find your website. The first chunk of information you'll see in the report is your top organic keywords. Note that if you're just starting out, you may find that your keywords seem a little bit random.

If your top organic keywords aren't quite what you were expecting, it's time to start brainstorming which search phrases you'd like to become your new top keywords.
Here are a few steps we use to come up with highly targeted keywords:
Think of likely questions regarding your products and services.
Enter your existing keywords into the Google Keyword Planner to generate new, related ideas.
Take all of these topics and enter them into Google Trends to find similar searches that are rising in popularity.
Once you're finished brainstorming, you can use these keywords as inspiration for new content. Focusing on content that targets specific long-tail keywords is proven to yield higher converting traffic.
Tip 2: Improve Your Homepage Title and Description
Your homepage title and meta description act as a mini-advertisement for your page in search engine results and social media shares. A well written title and description can increase your click-through rates. These are controlled using the title and meta description tags, often managed within a plugin such as Yoast SEO.
In your Clickx SEO Grader report, the title tag and description can be found just below the organic keywords section: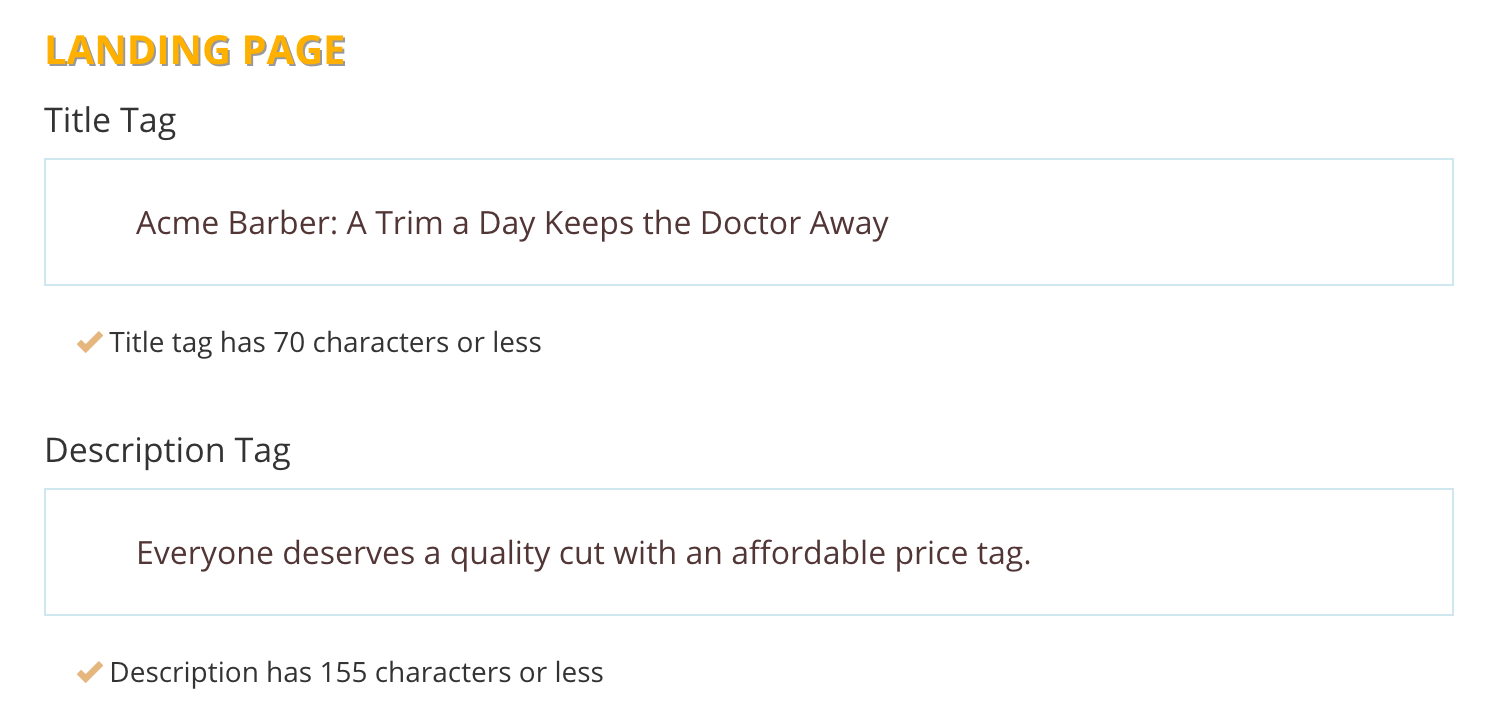 Here are some handy tips for writing powerful titles and descriptions:
Incorporate keywords into both your title and description.
However, avoid keyword stuffing. The tags should still make sense to the reader.
Be accurate, interesting, and concise.
Once your title and description are updated on your website, it's time to check your backlinks.
Tip 3: Identify Your Top Backlinks
Backlinks are links on other websites that direct traffic to your webpages. While the number of backlinks can affect rankings, it's more important for SEO that they are highly relevant. In other words, your backlinks should be earned—not bought or traded.
To view your top backlinks, simply click the Backlinks menu item on the left hand side of your Clickx SEO Grader report. Here, you can see the exact pages that link to you, what types of websites they belong to, and the words they are using to link to your site:
Again, earning natural backlinks is your best way to go. We recommend writing how-to posts, as these are highly informative and helpful—exactly the kind of article people tend to link to. Here is how to use these to your advantage:
Research relevant topics by thinking about the questions your customers might ask.
Keep your how-to articles simple and direct, solving one problem at a time.
Once your articles are posted, promote them to your indirect competitors.
Following these steps should help you earn high-quality, relevant backlinks every time you post.
Bonus Tip: Identify Your Organic Competitors
Organic competitors are those that rank highly for the same keywords you want to rank for. You can find your competitors near the bottom of your Clickx SEO Grader report, or simply click the Competitors menu item on the left. Here, you can view similar sites to yours and how they stack up:

Once you know who your competitors are, you can analyze them and evaluate where and how you might improve. Here are a few strategies we recommend:
Find their weaknesses. What relevant keywords are they not ranking for? Knock them out of the park by targeting those keywords with amazing content.
Tweak their high ranking keywords and target similar, long-tail versions.
Look for patterns in content length, quality, format, and calls-to-action in their highest ranking pages.
Armed with this information, you're already one step ahead of the game by taking advantage of industry knowledge.
Conclusion
Optimizing your website can be a complicated and overwhelming task, especially when you first get started. Running an SEO report is a great place to begin, and our free Clickx SEO Grader provides you with tons of detailed information, without any financial risk.
You'll find that this SEO report gives you the data to:
Review your top keywords and brainstorm more.
Improve your homepage title and description for higher click-through rates in Google search results.
Identify your top backlinks, to better understand what kind of content works well for you.
Identify your organic competitors, so you can learn from their tactics.
What would you like to learn about your website in your SEO report? Let us know in the comments section below!