Local SEO: The Definitive Guide
SEO experts promise to grow your business by helping people find you around the world…
But what if you don't need everyone to find you?
What if you're only concerned with targeting people who live and work where you do?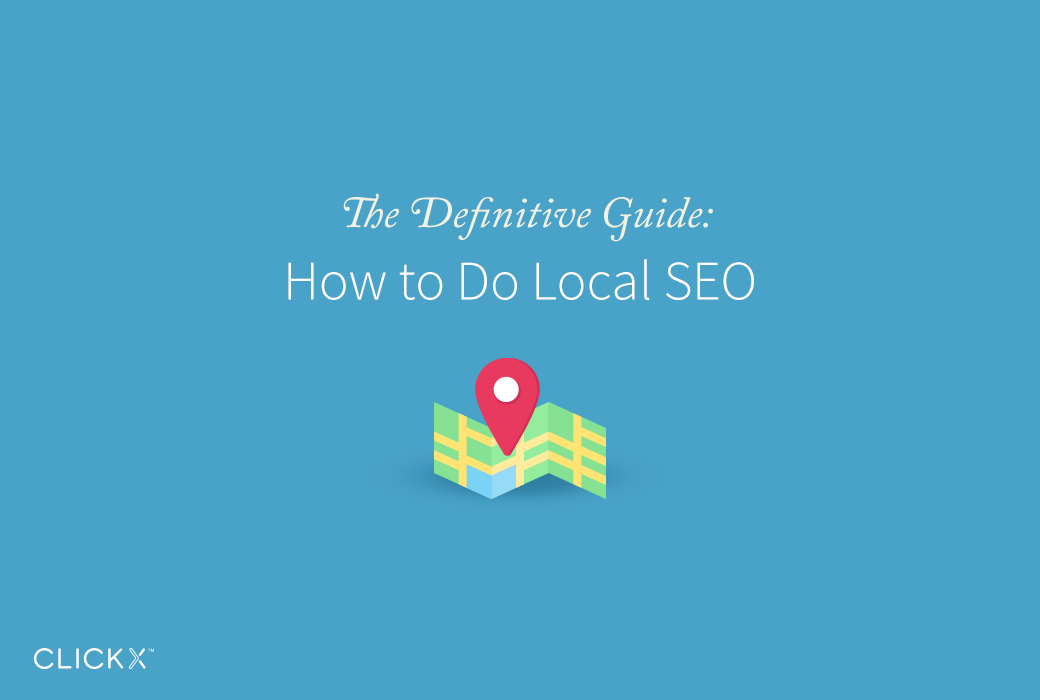 That's where local SEO comes in. It can stack the odds in your favor, increasing the chances of the right people finding you in their online searches. Local SEO offers incredible opportunities – and unique challenges – that make it a completely different animal than "standard" SEO.
Raising local awareness online starts with a smart strategy. If you're willing to execute, you can quickly pull ahead of competitors and emerge as a top player in your area.
Keep reading to find out how.

Local SEO Guide: Getting Started
The first steps to making local SEO work for you are: 1) getting a handle on what local SEO is, and 2) confirming it's a good fit for your business. There are a lot of aspects to consider regarding these two steps, as local SEO isn't necessarily ideal for everyone, though it is useful for many types of brick and mortar businesses. Here we'll help you determine if local SEO is right for you, and detail how it can further help your business grow.
What Is Local SEO?
In a nutshell, local SEO is a strategy to drive more business using online search engines. "SEO" is short for search engine optimization, specific strategies to increase website visitors by boosting your ranking in online search engines. "Local" is just the specific kind of SEO strategy: one designed to cater to a limited geographic area.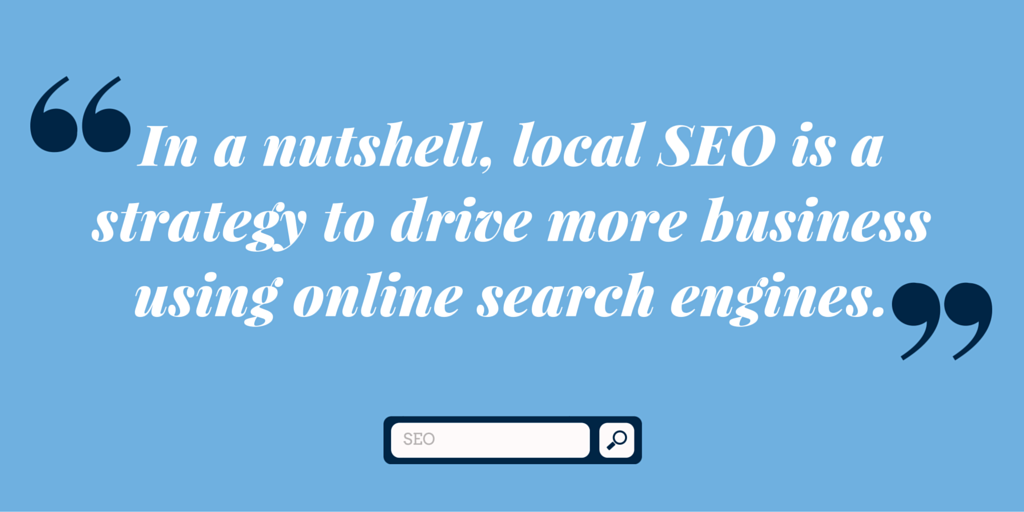 Local SEO strategies usually target a combination of keywords and names of cities or towns. A plumber, for instance, might target the phrase "Atlanta plumber." If your business has multiple locations, you can always target different markets simultaneously.
[Tweet "Drive more business with #SEO. How to Do #Local SEO: The Definitive Guide – http://bit.ly/1O5UIOM via @clickxio"]
Is Local SEO Right for My Business
The Internet has created the potential to acquire customers no matter where they live. That works just fine for some businesses, especially if they sell digital products. But many others still rely on customers physically coming into stores or being close enough to come to them. If your business is limited to a certain area, you could do well with a smart local SEO strategy. It doesn't matter if you're running a restaurant, lawn maintenance service, or doctor's office. Geographic limitations can work to your advantage in the world of local search. Once you've decided local SEO is good fit, it's time to put a basic strategy into action.
What Makes Local SEO Different from General SEO?
Normal SEO is done to help businesses' websites perform better in search engine rankings, but there's a fundamental difference between generic business SEO and local SEO. While general SEO practices target popular industry terms to help people find a certain website over competitors, local SEO is entirely centered around geo-modified keywords. Rather than looking for products or services nationwide and having the business optimize accordingly with broad terms, local SEO will only target specific regions, states, or cities that the business serves. This means optimizing for keywords that are more specific and limited to these locations.
How to Do Local SEO from Scratch
There's no shortage of SEO advice out there. Because SEO is so multidimensional (and changing constantly), thousands of tactics get introduced and modified. Strategies vary a ton from one expert to another. It's easy to get overwhelmed. You want to drive more search engine traffic, but just figuring out where to start can seem impossible. Some experts recommend high-risk strategies. They might pay off for a few months, but they fizzle whenever a major search engine changes their algorithm. You can spend a lot of time and effort trying to stay ahead in that rat race… Or you can stick to tried and true principles of good local SEO. Take a look at this simple step-by-step approach. You'll come away with a system to attract more customers online. Let's get started.
Step 1. Lay the Foundation
The first step to solid local SEO is doing the groundwork to make it easier for people to find you in their online searches. It's amazing how many local businesses still don't have a website. Some resist the idea because they do all of their business face to face. But even if no one buys from you online, that's almost certainly where they're looking for information. You better believe you want your business listed in the largest online directories! Hopefully you already have a business website. If you do, make sure it's updated with a responsive design. Your potential customers aren't just sitting at home typing on their desktops. They're on the move, using tablets and smart phones to find the information they need. Responsive designs make the browsing experience as pleasant as possible… no matter which device a visitor uses. Put yourself in your visitors' shoes. What if they're downtown, get hungry, and check their smart phone for a good restaurant nearby? They won't stick around if they land on your website if it's confusing and they can't even find the menu. They'll turn to one of your competitors instead.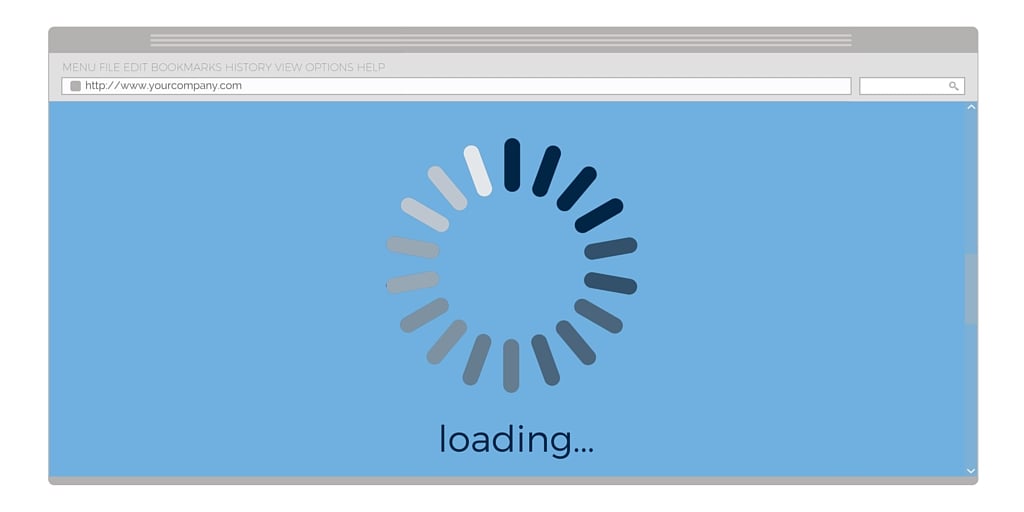 After you get your website in order, make it easier for searchers to find you by establishing a presence on popular review sites for your industry. Each profile you create acts like another "platform" for local visitors to land on. It's an incredible opportunity to demonstrate social proof (in the form of positive reviews from customers) and drive people back to your website, and eventually, into your store. Some of the most popular review sites include:
Don't just slap together half a dozen profiles and call it a day. Invest the time to flesh them out. Choose the right categories for your business, add your address and phone number, include your hours of operation, and upload quality photos. Review sites don't just help your website rank higher in search engines like Google. They're also search engines in their own right. Accurate, complete profiles help you get exposure to their audiences as well.
[Tweet "Lay the foundation and see results. How to Do Local #SEO: The Definitive Guide – http://bit.ly/1O5UIOM via @clickxio"]
Step 2. Optimize Your Website (On-Site SEO)
Once you've laid the foundation and established yourself on popular review platforms, it's time to optimize your website for better search engine rankings. The higher you rank for your local keywords, the more free traffic you receive. These tweaks on your own website are known as "on-page" or "on-site" SEO. Making your website as attractive to search engines as possible is the first in a two-phase SEO strategy. More on the second phase – raising your profile through links from other websites – in just a minute. Good local SEO starts with solid website structure. Clarity is key here. If you sell multiple products or services, break them down individually (or into related subcategories) on separate web pages. These pages – called landing pages – create opportunities to attract targeted visitors through precise SEO tweaks.
Name, Address, and Phone Number (Schema)
Even if you work out of a home office, it's crucial to present your business name, address, and phone number often and consistently. This doesn't just give interested visitors more opportunities to reach you. Displaying your address consistently within your website content makes it easier for search engines to determine your business is relevant for local search terms. Schema.org worked with the largest search engines to make it easier for their algorithms to spot key information on websites and categorize it. Unfortunately, a lot of local businesses are behind the curve because they haven't adapted Schema.org code on their sites. Their search engine results pay the price. Check out Schema.org to find snippets of free code you can implement on your website. The html tags pass key information to search engines without showing up on your website when visitors look at it. Where should you display this information? Your contact form is always a good bet. And including your business name, address, and phone number in your footer makes sure it shows up on every page that search engines crawl.

Local Search Engine Optimization Services Checklist
Here's a comprehensive checklist of quick tweaks to make your website more accessible to search engines:
Content: include your location and relevant keyword in each page's content
Google map: embed a Google map within your landing page content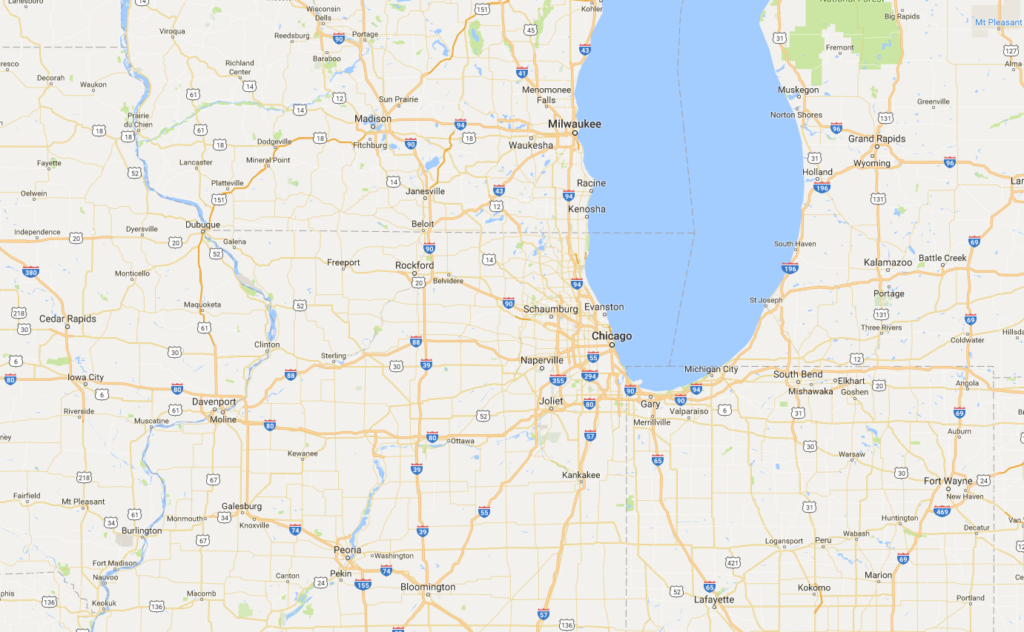 Image: include an image of you and your team if you can, making sure to label the image's ALT tags with your location and keyword
Logo: use your business name and location to name your logo file and image ALT tags
Meta description tag: include a location and relevant keyword when describing your business
Page URL: include a location and the relevant keyword (do this for each landing page)
Title tag: add your location and a relevant keyword (e.g., "Chicago dermatologist")
Step 3. Local Link Building
This is an important aspect of local SEO as well, though the process is much different. The goal here is to collect as many citations pointing back to your business website as possible. A citation is a reference to your company's name, address, and/or phone number on another website – with or without a link. Makes sense, right? The more locations referencing your business, the more likely search engines are to favor you. But there's a catch: citations are only effective if they're consistent. If you have dozens of websites linking back to yours, but they reference different business names or disconnected phone numbers, it muddies the waters and dilutes the power of inbound links.
Building Citations
Building more citations is great, but you're better off fixing inconsistencies in existing citations first. Online tools like Bright Local allow you to track down any websites citing your business. It sounds tedious, but making sure entries are updated (and consistent) will help your business establish a unified presence in the search engines' perspective. After you fix existing citations, it's time to build some more. There are tons of business directories available online. Some are free, and some charge a small fee to add your listing. If you don't know where to start, Moz put together an excellent list of websites where you can submit citations manually. Do a few a day, and the boost in your rankings compounds over months.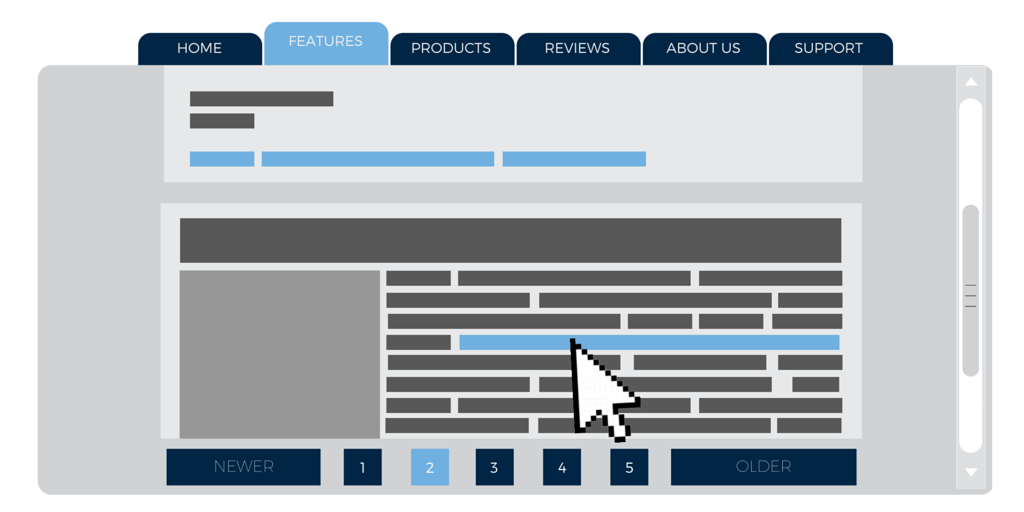 Another option: pay for a service like Whitespark to find and upload local citations automatically. This is a great move if you have the budget – but not the time – to spare. Finally, don't underestimate the value of competitive analysis. Websites that include citations of your local competitors are also likely to include yours. There are plenty of tools available to help you track these down:
Building links is a process, not an event. You'll see better long-term results if you stick to a steady, manageable pace over months instead of burning yourself out then quitting after a few days.
[Tweet "Put in the work and get long-term results. How to Do Local #SEO: The Definitive Guide – http://bit.ly/1O5UIOM via @clickxio"]
Your Step-by-Step Roadmap for More Customers
Local SEO doesn't have to be overwhelming just because there are thousands of tools and tricks out there. Tactics come and go, but the principles of what it takes to dominate local searches have stayed pretty consistent over the years. All you have to do is focus on the step right in front of you. Lay the foundation, optimize your website, and build links steadily. You don't have to do it all or figure everything out right away. Businesses with the most local SEO success treat it as an ongoing process, one they tweak and refine over time…
Avoid "Near Me" in Content and Other Changes in Local SEO
One of the biggest changes in the recent local SEO landscape is the change in the relevance of the term "near me" in campaigns. Over the last two years, searches without "near me" have increased by 150% according to Google. This is because people are searching for businesses on their phones with the assumption that Google will automatically track their location and direct them to nearby locations. Also, while searches with zip codes included along with search terms used to be relevant, searches including zip codes have also dropped by over 30%.
This makes building out mobile-optimized local content targeting each city and state more important than ever, as buyers have shown to be more likely to make a purchase from companies with information tailored to their location over the phone. This, among other things, is making local SEO a bigger challenge for many companies.
With the right local SEO software behind your operations, you'll benefit from working with software that can help you stay ahead of competitors and further ensure your business's success in this increasingly difficult industry. Local SEO is about understanding audiences and what they want, which is how Clickx can help.
Local SEO Company
Local SEO is crucial for many businesses that need to bring in those local customers, but they need to be able to remain comfortable in knowing that their efforts are worth it. This is where Clickx comes in, as a leading provider of local SEO services. Our company can provide some of the most reliable services available.
While you may even want to perform local SEO on your own, you won't benefit from the kind of performance that experienced experts can provide. Clickx's team of SEO specialists can develop a campaign that maximizes the potential of your business's performance.
And so can you get started today. The hordes of new customers calling and coming in your door are more than worth it!