10 Steps to Building the Perfect Instagram Profile for Your Business
What started off as a simple app to share pictures with your friends, quickly became the go-to social media platform to promote eye-catching content. With over 75 million daily users, over 400 million monthly active users to date, and engagement rates 58 times higher than Facebook, your business can't afford not to be on Instagram.
But before you start posting tons of photos, you'll need to know the basics.
In this post, we'll teach you how to build the perfect Instagram profile. Whether you've been on it for years or just getting started, there are a few tips and tricks up our sleeve that are sure to boost your Instagram presence and build brand awareness for your business.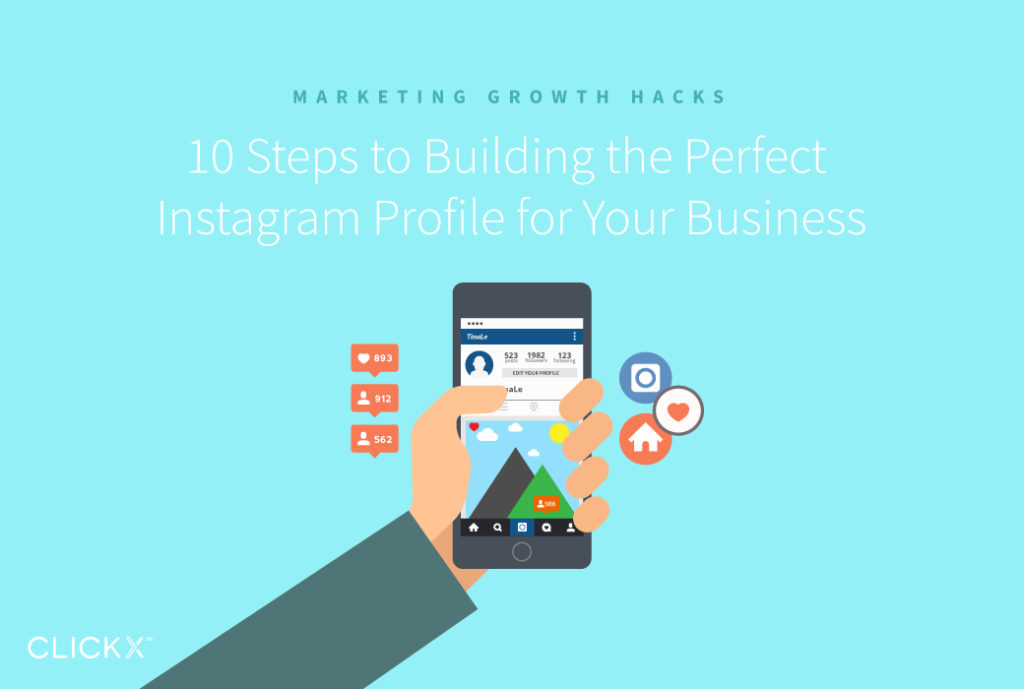 1. Choose Your @Username
Before you start posting onto Instagram, you'll need to choose a unique username. If your business name is not available, you can try different variations of your name. For example, if your business name is "Jane's Bakery" but the username "@janesbakery" is taken, try adding your business's location to the name and change it to "@janesbakerychi," indicating that your bakery is located in Chicago.
Equally as important as the username is the "name" section of your profile. Make sure you use correct capitalization and stylization of your business's name, making it easier for users to find your page. In this case, you can choose between "Jane's Bakery" or "Jane's Bakery Chicago," if there are multiple locations with the same name.
2. Use an On-Brand Profile Picture
Choosing an appropriate picture for your business's profile is important in getting other users to recognize your brand. It's one of the first things that people will see when they go to your page; so make sure that it's easily recognizable to users and potential customers.



We suggest using your company logo as your Instagram profile picture. However, if your business has multiple branded images, you can choose to use your storefront, mascot, or anything of the like.
3. Include an Informative Bio
Your bio makes a lasting impression on your audience by providing complementary information along with your pictures. Be sure to make it something memorable.
In this section, you'll want to explain to users who you are and what you do. Additionally, you can add your address, history about your business, an email address, a phone number, hours of operation, or whatever else you think would be important to mention when introducing yourself to users who aren't already familiar with your business.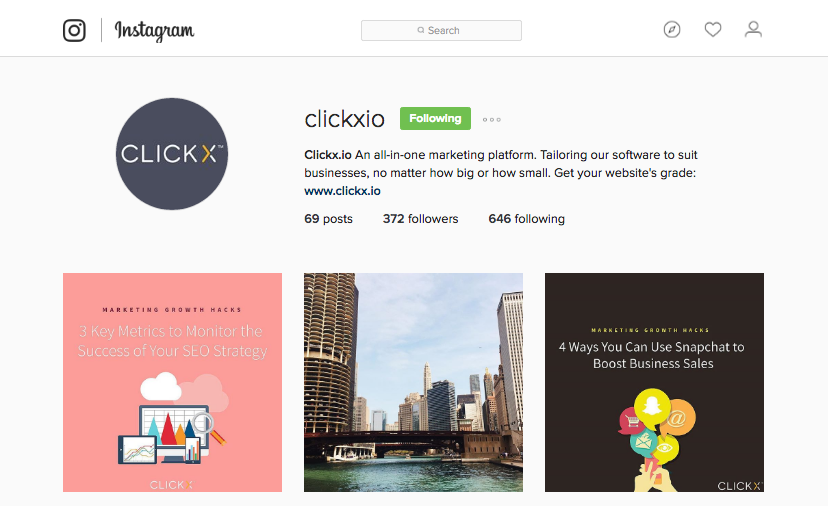 Remember, these bios are just 150 characters, so think critically when choosing what you want to include. We recommend that you personify your brand in this section, so no need for a formal biography. Use words that resonate with your target audience, visitors will know if your account is relevant for them to follow.
Take a look at these examples: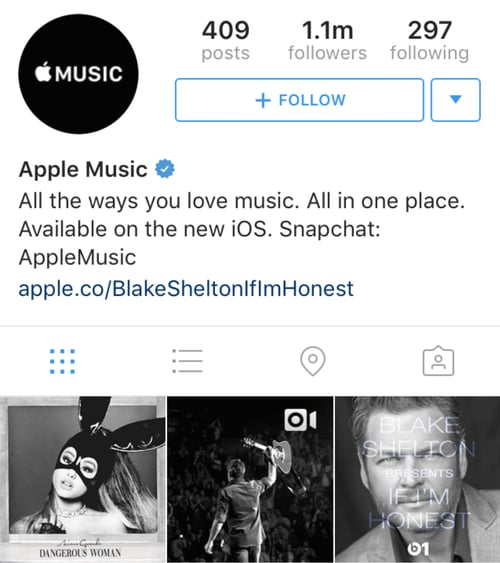 Apple Music keeps their bio short and sweet. They also used it to cross promote their other social accounts by encouraging followers to add their Snapchat. Apple also opted to share a music artists' album as their URL, directing users to their online store.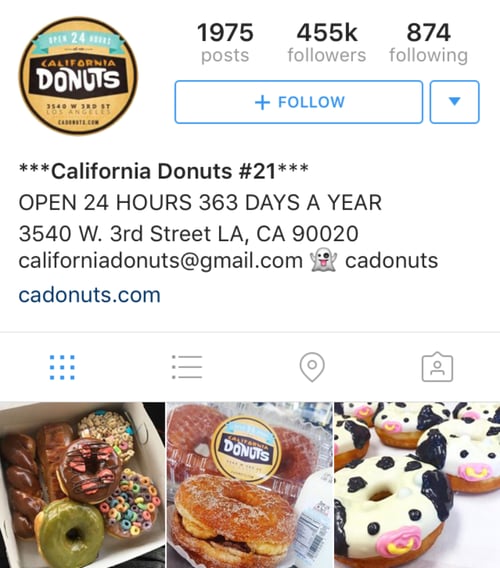 California Donuts quickly informs users of their location and email address in their profile. This makes it clear to customers that they are easily accessible at anytime of the day.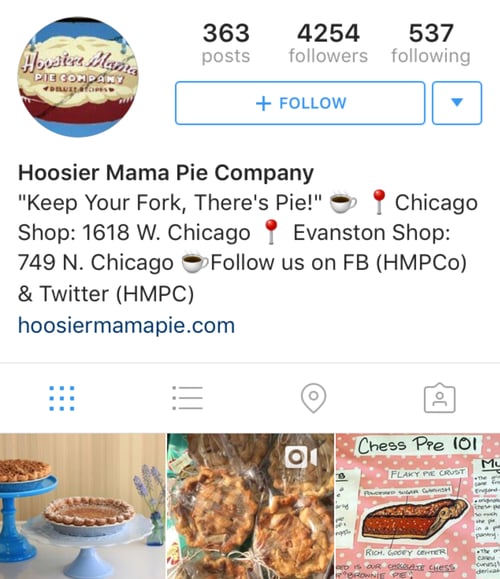 Hoosier Mama Pie Company was able to squeeze in their slogan, two locations, Facebook, and Twitter usernames all in 150 characters! Take note of how they used emojis to informatively enhance their profile.

Bonus tip: Edit your profile through the web version of Instagram to easily and quickly format your bio.
4. Add a Trackable Link
Instagram also gives you the option to put a link in your profile. Instead of putting just the URL of your website, you could be a variety of other links.
For example, you could link your Instagram to a blog post, an upcoming event, or perhaps an Instagram-exclusive landing page. Whatever it is, you should change it regularly if it's a link other than your homepage.
What you choose to put in that link section is up to you, but you should make sure that it's a trackable link. By seeing where leads are coming in, adding the source of the traffic is crucial in measuring your Instagram efforts.
You can learn how to generate a custom URL with Google Analytics. This little link can become a very powerful tool in your social media marketing strategy.
5. Take Clear, Interesting, High Quality Photos
When we say high quality, we don't mean bust out your fancy DSLR camera! Your smartphone should be able to take high quality photos with a little help from a few mobile photo-editing apps.
The most important thing when taking a nice picture is lighting. If you don't have the option for good natural lighting, opt for bright artificial indoor lighting. When all else fails, boosting the brightness and exposure on a photo-editing app will be sufficient.
Next, you want to pick an interesting subject. Incorporate your product with other items to add visual interest or showcase how it's used in everyday life. For example, Coca Cola's Instagram feed isn't filled with images solely of a Coke bottle, they show how Coke relates to their customers.
If your business doesn't sell products, you could post pictures pertaining to the type of lifestyle that is associated with your business's target audience. Perhaps you offer a service for your customers and want to show how much their lives can improve with your help, or maybe you own a hair salon and want to show before and after shots of your clients' hair.
Remember to give value to your followers! Promoting your products or services is encouraged, but not necessary to do in every single one of your posts. No one likes a sales-y Instagram!
The basis of your business's Instagram page should begin with taking good photos. It might take a couple of tries before you get into the groove of it, so continue to practice and you'll be sure to perfect it.
6. Establish a Theme
Taking a good photo is just the first step in creating a perfect Instagram feed. Next, you'll want to establish some sort of theme, both visually and contextually.
What is an Instagram theme?
To start, you want to post pictures that relate to each other. These photos share a similar look or feel and tell a story. For example, if you want to showcase images of your bakery, you'll want to have shots of many of your pastries from a bird's eye view, a close-up macro image of the texture, and an image of someone enjoying your pastry with a cup of coffee. The possibilities are endless, but the main thing to do here is to make sure that the images are on brand and consistent with each other.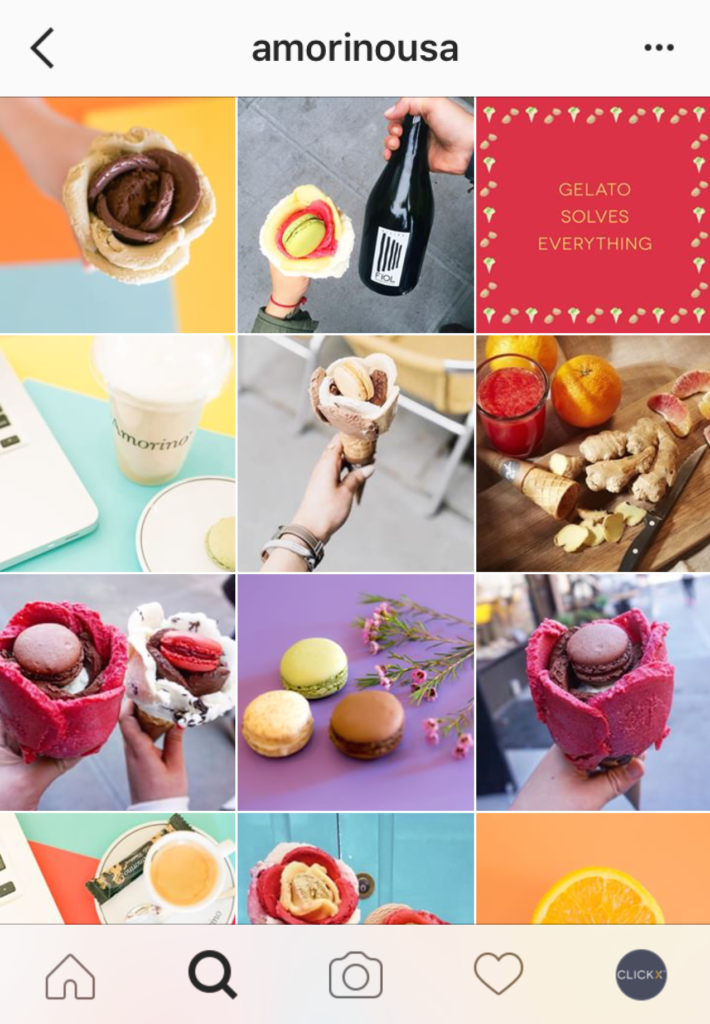 Another easy way to build a theme is to use the same color tone. This can be achieved by using the same filter on each image and fine-tuning it or editing your photos in a similar fashion. Some of the apps we love the best for photo-editing for Instagram are VSCO Cam, Aviary, Adobe Post, and Snapseed.

Aside from creating a visual theme, the story that you're telling with your images is equally as important. Your caption section is a powerful tool. By personifying your brand, you're opening up your comments section for discussion. Adding that human touch to your page is essential in any successful social media strategy.
7. Post Consistently
We cannot stress this point enough! The only way to grow your Instagram account (or any social account) is by posting consistently.
Post too much and you'll be seen as a spammy account, post too little, everyone will soon forget you're even on Instagram! We recommend posting between 1 to 3 times a day. Space these posts out and figure out when the best times are to post by using tools such as Iconosquare.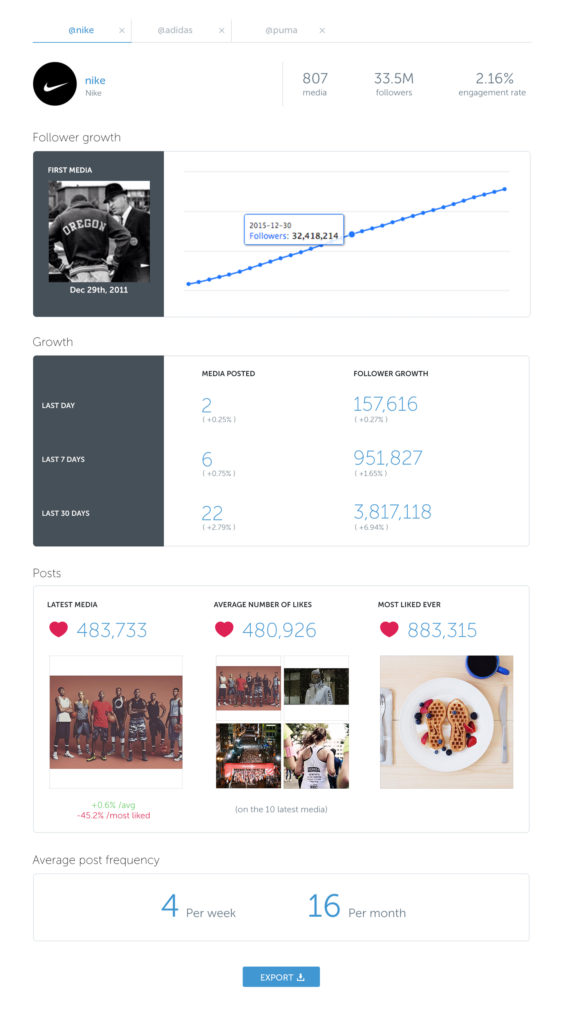 As long as you have a set schedule of when you'll be posting these images, keeping followers interested and engaged should be no problem!
8. Use Appropriate Hashtags
Sure, using "#like4like" in your caption might get you a few likes on your picture, but will it draw in the right audience? Probably not.
Using your own branded hashtag is great, but the visibility of that hashtag might not be enough.
Find the right hashtags for your business by doing a little bit of research. You can find the volume of different hashtags by typing into the Instagram search bar. Here, you'll see which posts are doing the best with the hashtag, as well as the latest pictures with that hashtag and how many are tagged with that hashtag.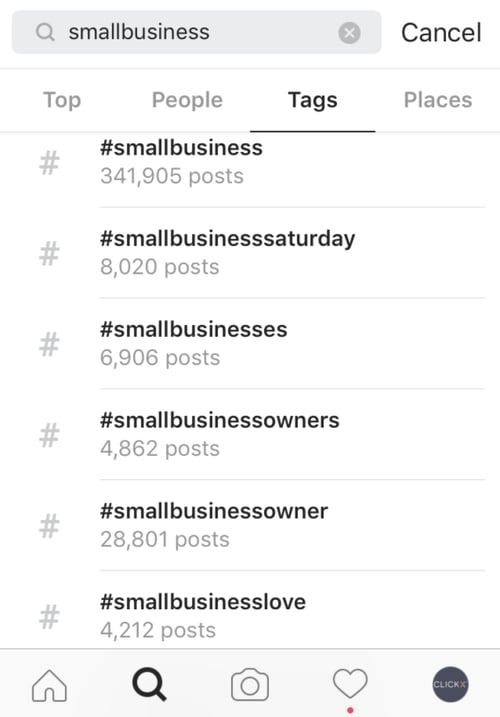 We also recommend doing research outside of Instagram for hashtags relevant to your business. Check out Shortstack's list for an idea.

Hashtags give you the ability to be easily found in your niche. Your business can take part in a larger community by utilizing hashtags for their fullest potential.

Bonus tip: Don't forget to use those geolocation tags as well! This feature will allow people to see where you're posting from and could connect you with local users.
9. Engage, Engage, Engage
Posting pictures is only half of what it takes to have a success Instagram account. The second half requires you to engage after your photo has been posted.
Like we mentioned in the previous step, hashtags are a powerful tool in making connections. Leaving a like or a comment on a picture using hashtags relevant to your business will give you some traffic to your profile, especially if you are consistent with these. Users will be more likely to notice your profile and follow your account if they see that you posted a comment and liked their picture.
10. Track Your Metrics
After you've gotten everything else down, it's time to track your success!
Without tracking and analyzing your metrics, your business has no clue if your Instagram marketing strategy is working or not. You'll always want to test to see what works and what doesn't. Tracking the growth of your account will only ensure success, as you continue to improve and build upon your profile.

Try out these apps from this list of free Instagram Analytic tools!
Bonus Step: Utilize Instagram Ads
Once you've got your Instagram on it's A game, you should start considering utilizing Instagram Ads. Advertising on Instagram is now open to everyone at an affordable price. This is a smart move to make for businesses targeting Instagram's demographic, looking to find new prospects.
If you're familiar with advertising on Facebook, using Instagram Ads will be a breeze for you! To get started, you'll need a Facebook Page and access to Facebook Business Manager. Here, you'll find your Facebook and Instagram accounts and advertising campaigns for each account. Conveniently, you can set up ads for both platforms with shared creative elements as well as utilize Facebook's advertising features such as ad-targeting capabilities and analytics. If you need a quick how-to guide, Facebook for Business is the place to start.
Competition for Instagram advertising is only increasing and standing out will become more difficult, so make your move now!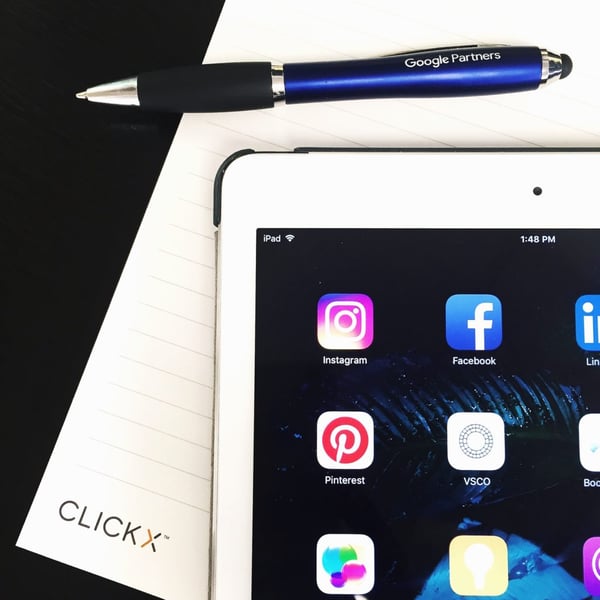 Conclusion
We didn't say building the perfect Instagram profile for your business would be easy, but by following these steps, we're confident that you'll effectively grow your brand awareness and capture more leads.
At the end of the day, remember to have fun with it and use Instagram to really showcase your business in the best light possible. Let your brand identity shine through and you'll have a loyal following in no time!