Landing Pages & Funnels
Gain commitment from your prospects with our white label portfolio of Landing Pages & Funnels
Landing Pages Design Library

Banner Ads Design Library

Funnel Samples Design Library

Digital PR Design Library

Designs Updated Regularly

1-Click Sharing for Clients

A Gamut of Industries & Verticals
"Clickx is the company I wish I had when I started over 15 years ago."
-Solomon Thimothy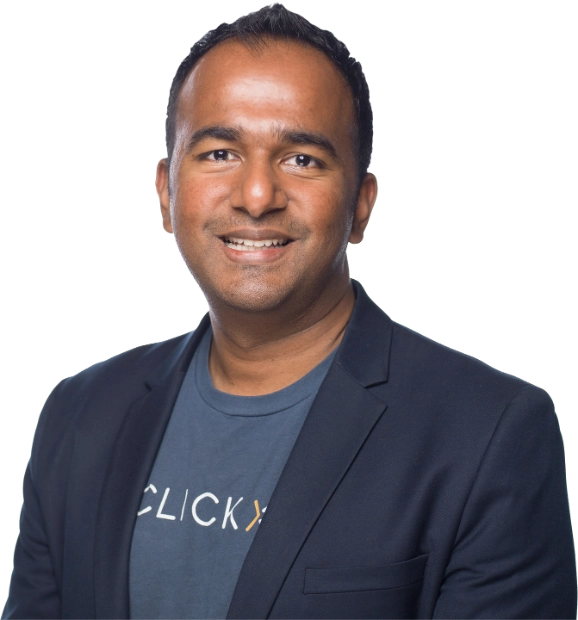 Wanna See Clickx in Action?
See how we make agency scaling easy!
Watch a Walkthrough of Clickx!
Ready to Scale Your Agency
Discuss
NEXT
STEPS
Schedule a call with a Partner Advisor to learn how you can unlock the potential of your agency!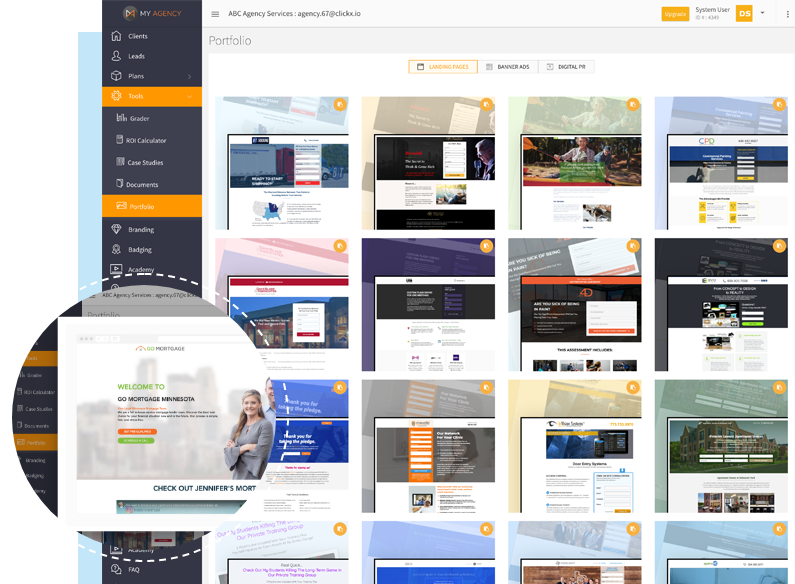 Many new agencies are struggling to prove their expertise to potential clients, so it's extremely helpful to have readily available samples of previous work.

Clickx Portfolio is a resource bank of shareable assets for our Agency Partners created to help them close more deals. We have tons of experience in different industries, both B2B and B2C, which we are offering to you as a part of your sales process. Use any sample you see in the portfolio fully white label. We provide lots of turnkey business solutions to grow your agency.

Let's make sure your prospects know that you have a top-notch team to execute their projects!
Display Your Portfolio and Book a Call Effortlessly
Once a potential client has been swept away by the work you've created, you can make booking a call as effortless as selling them your service. Simply embed your calendly link to the bottom of your portfolio page where clients can immediately book your first availability.
Landing Pages Design Library
Our designers and developers work hard to make beautiful, mobile-friendly experiences so that our partners get the results that they're looking for. We have dozens of examples that can become a one-click shareable asset for you as a partner. Come to our white label portal, select any of the assets that match the industry of your prospect, and use it as an example of what they will get from working with you.
We want to make sure that our partners are getting maximum value, so we are offering you an amazing team, the latest and the greatest technologies, working strategies, usable assets, and everything else your agency needs to become more successful.
Banner Ads Design Library
Showcase some of the work that our designers have done in the past to generate as much business as possible! Digital advertising is one of the biggest parts of our job because we want to make sure that every single campaign is set for success. Clickx Portfolio includes examples of banner ads in different sizes for a variety of industries your agency may serve.

Let your prospects know that you have all the necessary resources to execute successful advertising campaigns. You can download any example with just one click. Simple as that! And this is only one of the many white label business opportunities you can discover with Clickx.
Digital PR/Thought Leadership Examples
Digital PR is getting your clients published on relevant publications in their niche for your clients. Outreaching to publications and getting published will increase brand awareness and generate more business as a result. Clickx Portfolio includes the work that we've done in the past as a part of the PR strategy for our clients. These are the examples of content created by our team that was put in relevant publications to get quality links back to our customers' websites. And those examples are available in the portal for you to share with your prospects.

As our Agency Partner, you will be able to download those samples and use them white label as an example of your services. And once you close the deal, you've got the entire Clickx team to back you up!
Apply to Become a Partner
#1 White Label Digital Marketing Platform and Fulfillment Support
Unlock the potential to generate a monthly revenue of $10K and beyond with our comprehensive support in lead generation to sales
Join our Clickx Fulfillment Network and unlock unlimited potential and flexibility, setting your own rates while working from anywhere.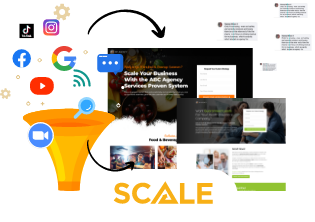 Confidently add an extra $30K - $50K/month in recurring revenue with our support in lead generation, sales and strategic coaching.