The Difference Between Ranking Your Home Page and the Rest of Your Pages
Let's set the scene: You've been investing time, energy, and money into Search Engine Optimization (SEO) for your business over a few months, and reports show you're actually bringing in traffic for a target keyword! However, upon searching it for yourself, you're disheartened to find your home page is nowhere to be found. What gives?
Rest easy—there's a difference between your home page and the other pages of your business website. Furthermore, investing in SEO still pays off, even when your home page isn't showing up for competitive keywords in the way you imagined.
In this post, we'll walk you through the differences between ranking your home page and the rest of your pages in Google. By the time we're done, you'll be able to clearly judge the value of your optimization efforts.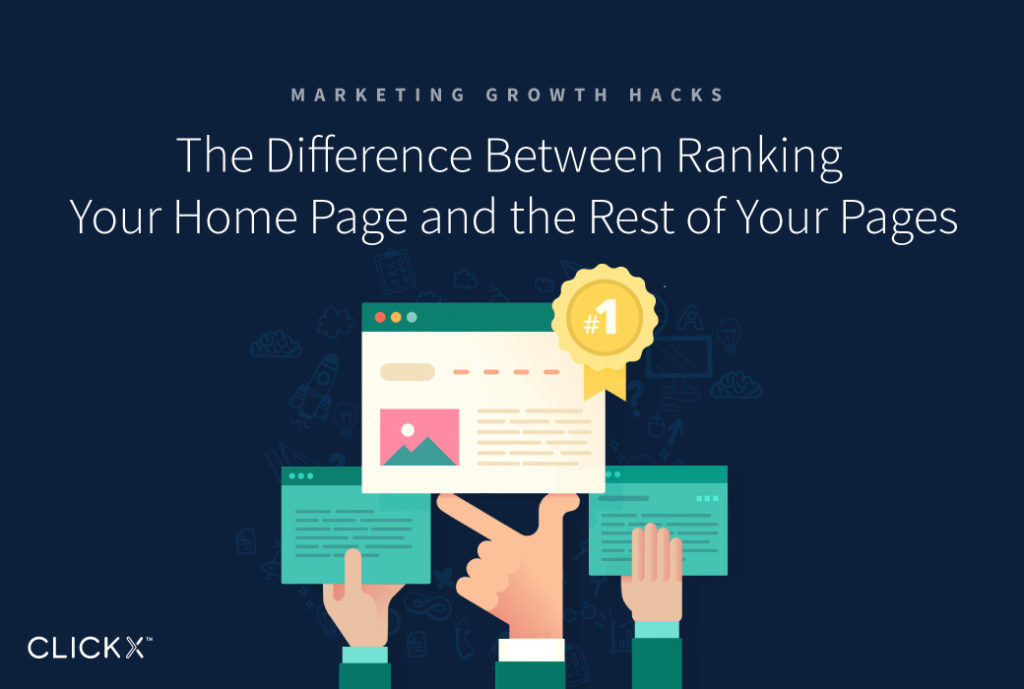 Key Takeaways
A website is made up of many pages.
Each page can rank for one keyword and its Latent Semantic Indexing (LSI) relatives.
The home page is only one page on your site, and will likely rank for your company name and one choice keyword.
The Role Ranking Plays in Content Marketing
Content marketing—a form of inbound marketing that's been around for some time now—means targeting many potential local customers without a hard sell. This is often done by providing upfront value that ties back in to your business' products and services. This builds a long-term relationship with potential customers, and increases the chance of ongoing business.
Content marketing covers many realms (including blogging, social media, email marketing, and more), and the goal of any content marketing strategy is to bring high amounts of traffic to your site. In turn, you can optimize your site to turn visitors into qualified leads for your business.
Ranking highly in search engine results plays a huge role in how much targeted organic traffic your business website receives. Ultimately, SEO itself is all about content marketing.
That being said, not all pages on the site will rank the same, or will be able to pull in the same kind of traffic. This is important to understand, otherwise you may miss out on the benefits of SEO.
How to Strategize Business Website Optimization
As you optimize your business website to rank in search engines, you may expect that the lone domain will rise to the top for every target keyword. So how does ranking for your domain name work? Simply by using your home page or other individual pages—it all contributes to the overall ranking power of your website. Let's take a deeper look.
The Business Home Page
The home page is the one that shows when a visitor navigates to your primary domain URL, and doesn't access any subpages. It counts as one page among the many on your website.
No matter how many keywords your entire domain is seeing traffic from, the home page itself will likely rank for only two things:
Its specific target keyword.
The name of your company.
That said, your home page may eventually rank for broader keywords, but doing this will require successfully ranking many internal pages on the same specific topics, for a long period of time. In the end, whether traffic comes in via the home page or not won't make much of a difference in conversion rates.
There are also a few additional features that your home page could be eligible for, such as sitelinks and a site search box. However, it's up to Google's discretion whether you'll get them.
Sitelinks show beneath your home page in search results, and are usually picked out from your navigation. There's no real way to optimize for these besides having well-structured navigation.

Search boxes can also be displayed beneath your home page's listing. They enable the user to begin searching your website without leaving Google:
Unlike sitelinks, you can optimize your site to be eligible for a search box. The easiest way for WordPress users is by using the Schema plugin, though you can also add the Schema.org markup directly to your site's pages.
Per Page Optimization
Your website is comprised of your home page and every other page or post you've published—we'll call them all pages for the sake of clarity. Each page on your website can rank well for only one keyword.
The caveat to this would be LSI keywords. These are synonyms or sentimentally-related words to the original keyword your page ranks for. It means it's completely possible to target one keyword and end up ranking for other keywords with similar meanings. You can play with this website to experiment further with LSI keywords.
Let's recap what we know so far:
Each page is an opportunity to rank for a new keyword.
Even your home page is a unique page.
In essence, content marketing works because you can target almost unlimited keywords for new traffic, simply by creating more pages.
[Tweet "Content marketing works because you can target almost unlimited keywords for new traffic."]
This approach helps smaller businesses compete with the big budgeted marketing agencies. This is also known as long-tail keyword optimization.
Here's what makes long-tail keywords so effective:
There's less competition per keyword.
By creating quality content for keywords with less competition, you can attract a higher percentage of the overall traffic searching for that keyword.
It's more affordable to target long-tail keywords.
The traffic you receive will be more targeted towards your business.
SEO used to be much simpler—you picked one short keyword and that was it. However, nowadays search is growing. Approximately 15% of searches made with Google every day are brand new, and people tend to use more conversational phrases because they are searching with voice. Long-tail keywords cater to these types of changes.
So how does a small business like yours get a head start? Simply take a look at your competition:
Find their weaknesses, identify what they're doing poorly in SEO, then do it better.
Analyze their keywords with tools such as Semrush, KeywordSpy, and Webconfs.
Examine your own site to find what keywords you already rank for and where they can be improved.
Create a content strategy based around your findings.
Learning from your competitors helps you to parlay the experience of those who have gone before you, and also helps you keep ahead of the pack.
Conclusion
It can be discouraging to find out your home page may never rank for all of your desired keywords. However, don't lose heart! You can still drive a significant amount of traffic to your site—all it takes is a clear image of how content marketing interacts with your website.
Remember, your home page is only a single page of your site, and each page can only rank well for one targeted keyword. Simply focus on the overall organic search traffic to your site, and don't get caught up with how high your home page ranks for every keyword.
Do you have any questions about the difference between your home page and the rest of the pages on your site? Let us know in the comments section below!