8 Important Online Marketing Terms Defined & Explained
Online marketing, as with any other industry has its own terminology and acronyms. One important term you should know by now is SEO, or Search Engine Optimization. SEO refers to activities that are designed for both off-site and on-site improvement of the performance of a website, especially in the results pages of search engines.
On-site SEO is used to modify your page content so that it is attractive enough to all the search engines. This is done by using specific keywords in the headline tags, tags of the page title and in the body content. Different strategies are used in off-site SEO to promote the formation of important backlinks that point back to your website. The following explanations of essential terms used in the digital marketing world will come in handy: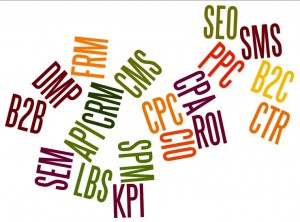 1. PPC – This is the acronym for the advertising term pay-per-click, which refers to the method of website marketing where a bidding rate is charged each time a user ends up clicking on an advertisement. Google Adwords is probably the most popular PPC platform used for advertising.
2. SERP's – Search engine results pages. When a search engine runs a query, it will list some suggested websites, which is referred to as SERP's. You might hear an SEO expert say to his or her client that because of his or her SEO techniques, the client's website is now ranked on Google SERP's first page for certain keywords.
3. SEM – Search engine marketing. This term describes all the marketing strategies used on the Internet to help increase the visibility of your website. This includes both PPC and SEO.
4. PR – This stands for PageRank. This was developed by Google PageRank and is a website quality measurement. It is rated on a scale of 0 to 10 and it is mostly based on the quality and number of inbound links that point to your website. This PR measurement is seen as how high Google views and rates your particular website.
5. CRO – Conversation rate optimization. This is an extremely crucial activity for all Internet marketers. They use it to determine what the effectiveness of their calls to action are on a website. Any CRO strategy is vital in getting your visitors to buy a service or product or subscribe to your newsletter, for example.
6. CTR – Click through rate is mostly used in measuring your results from PPC advertising. It refers to the total number of visitors that click on a particular advertisement, which is based on the general search volume or ad impressions. It is used to measure the effectiveness of your various on-site marketing fundamentals as well.
7. CPC – Cost per click. This is used in various circumstances online, such as:
CPC is used by PPC advertisers to refer to any rate they need to pay for clicks on their ads.
A website that uses various PPC ads to earn revenue often refers to CPC as the payout that they receive.
8. CPM – The cost that you incur for each 1,000 views or impressions of a particular ad is referred to as CPM. It is different to PPC, as you will be billed for the ads, no matter if you received clicks or not.
Summary
As with any industry there are terms and acronyms that you must know in order to take part in the conversation about it, and online marketing is no exception. As you become more familiar with online marketing these terms will become second nature to you, when you see them in marketing articles and posts. Shortly you will be able to join in the conversations concerning all online marketing related topics.