Small Businesses: How to Emulate Big Budget Marketing at a Fraction of the Cost
One of the advantages that corporations hold over small businesses is their enormous marketing budgets.
But don't let that stop you. Even though you can't afford an entire marketing team, you can focus on the Pareto principle and lay the groundwork for big results with minimal investment. In other words, you can beat the corporations at their own game and emulate big budget marketing by avoiding a 'bloated' approach to marketing and focusing only on what matters.
In this article, we'll review the key marketing tactics you should adopt in order to ensure your business can compete with big budget marketing. By the time we're done, you'll be ready to take on the big boys!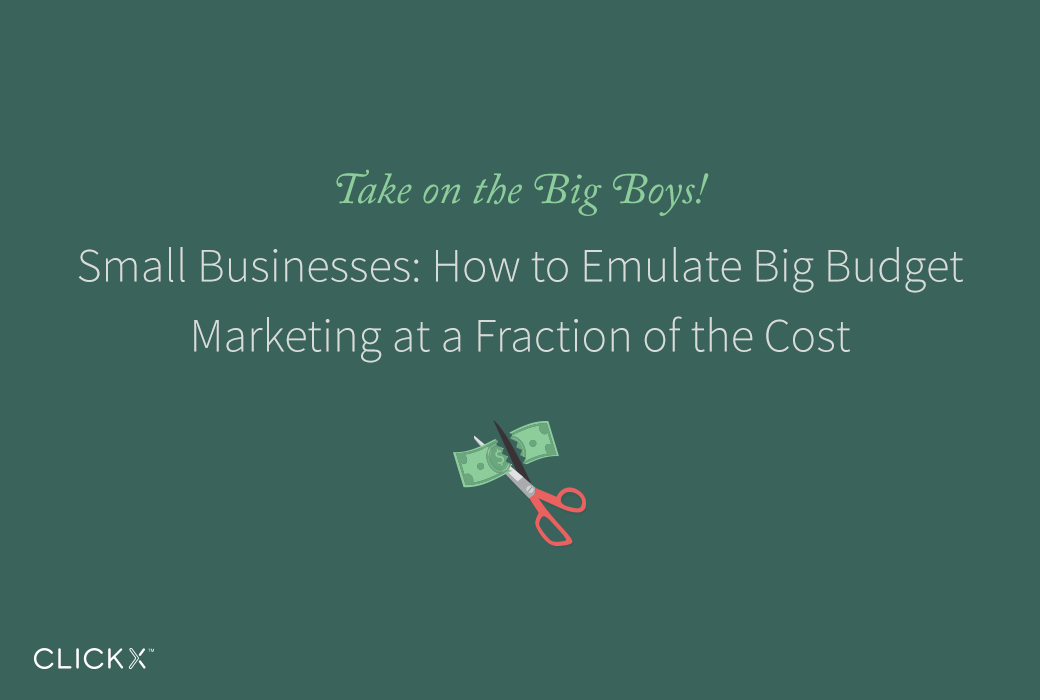 Step 1: Provide the Information People Are Looking For
The following strategies are all free or low cost, but can dramatically increase how many people find you online and take action.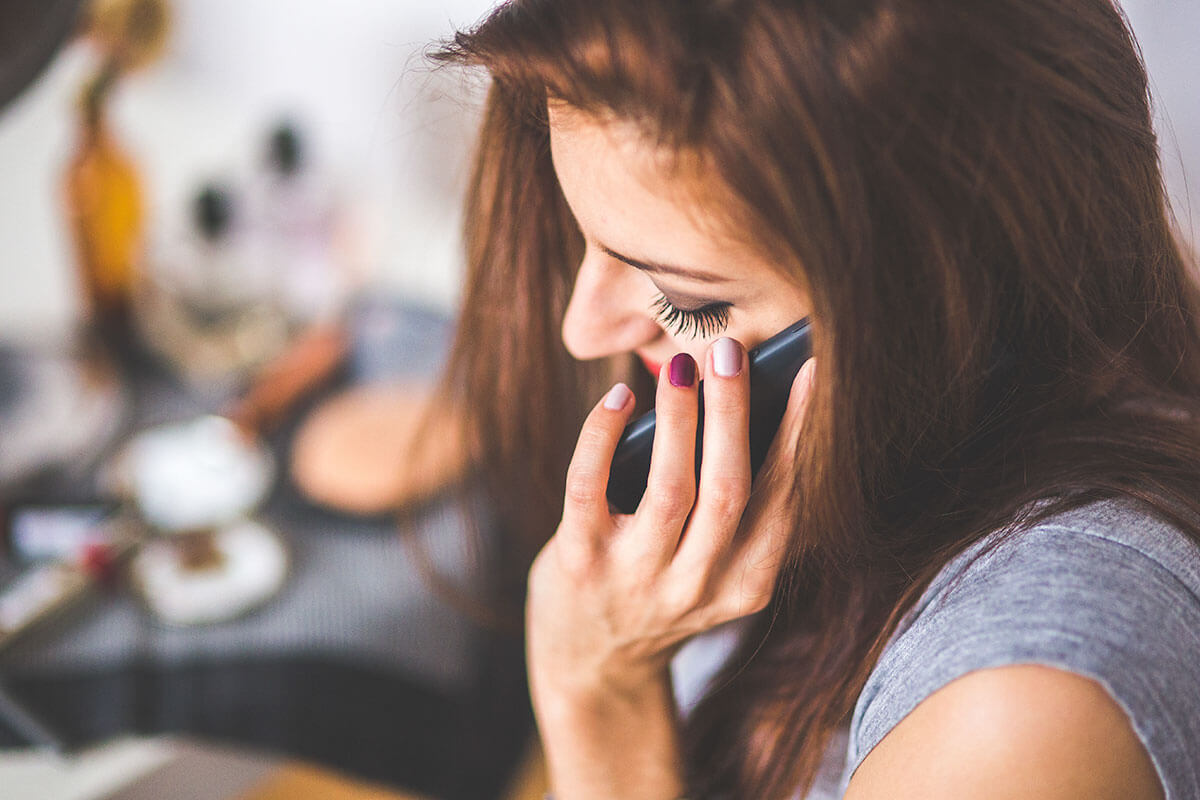 List Your Vital Information
[Tweet "Vital information is everything that directly impacts a visitor's ability to become a customer."]
This may seem like an obvious step, but many small businesses simply don't list their vital information online in all of the places it should be. The following information should be readily available from any page on your website.
a single-line summary of your business
Example: "We repair furniture" will distinguish you from "We sell furniture." This simple statement eliminates any confusion about your services—for visitors and search engines alike.
a physical address
An address will encourage on-site drop ins. If your address isn't easy to find, people will simply not show up.
a phone number
Providing your phone number shows credibility and a willingness to communicate with potential customers. This works particularly well for last-minute customers who can't wait on digital communication.
opening hours
No one wants to waste time coming to your business when you're not open. Posting your hours eliminates that risk and welcomes new customers to stop by or contact you when you're available.
an email address
Many people would prefer to correspond virtually. Providing an email address enables those potential customers to ask their questions and receive personal support without the stress of a realtime phone call.
policies on returning phone calls and email
As you are a small business, you may not always be around to answer calls or emails immediately. People understand this, but do want to have their needs met. By offering a defined policy, such as "Responses within 24 hours" or "Our policy is to reply within 1-2 business days", people are more likely to offer you that grace period before taking their business elsewhere.
Big brands get business because people know who they are, what they offer, when they're available, what to expect from them, and how to get in touch with them. Providing these details about your own company makes you as accessible and understandable as a big brand.
Create Product/Service Landing Pages
Whether or not you offer online sales for your products and services, you can increase your chance of being found in search results by creating a unique landing page for each of them. This not only improves SEO, but allows you to take the prospective customer further along the buying path (AIDA).
Every landing page is a free marketing tool! Prompt visitors to call you, email you, or show up at your door.
Not sure how to create landing pages? We've got you covered with these articles: Effective Landing Pages and Landing Pages That Convert.
Create and Execute a Content Marketing Strategy
Once your essential information is on your website, it's time to think forward and create a content marketing strategy.
Content marketing is based on the concept that providing informative solutions will attract prospective clients to your business, creating long-term, loyal customers for your brand.
We encourage you to start with your own content marketing strategy by using the following resources:
Step 2: Build Rich Local Data On Your Own Site and Beyond
Rich local data means that your business information displays in search results—on maps, with ratings, with all the vital information outlined above.
More often than not, people turn to big brands because they're easy to find and easy to trust. How do you compete? It's almost too simple: become easy to find and easy to trust.
Here's how you can get started.
Add Schema Markup to Your Website
Schema.org adds rich snippets results to your listings, which increases the chance that someone will click on your page when they see it in search results. This markup can include information such as star ratings, author, product cost, and availability.
If you use WordPress, you can add schema markup with Schema.org plugins such as All In One Schema.org Rich Snippets, or look for themes that support Schema.org data. Even if you don't use WordPress, Google provides a tool that helps you build Rich Snippets.
For more information on Schema, check out this article by Kissmetrics: Get Started Using Schema.
Register Your Business on Third Party Sites
The two biggest players for getting found may be Google Business and Apple Maps Connect, as these will include you on both companies' ever-popular mapping applications.
If you're ready to manage your brand on review sites, you can begin with popular social networks such as Yelp or Foursquare. Search whether people have already left reviews for your business in either location, and focus on the network where you already have reviews.
Doing this well will boost your visibility for searches not only in Google, but on every app using the APIs for any of these services. Let the other websites do the marketing work for you.
Conclusion
Big budget marketing may show up in TV ads or on billboards near the freeway, but you can get comparable results by making sure that you are highly visible online. By becoming virtually omnipresent, you'll start being recognized as a brand name when people are searching for your kind of business.
The above are all small, inexpensive steps you can take that have a big impact. Establish yourself as an authority in your industry by providing readily available business information, powerful landing pages that convert visitors to customers, and quality content that people can trust. Gain the most visibility for the least effort by being available on popular review networks and mapping tools, where your information will be integrated into countless API applications as well as the original networks themselves.
What tricks do you use to emulate big budget marketing on a small business budget? We're curious what you find the best success with. Tell us about your experiences in the comments!