7 Vital (Yet Simple and Often Forgotten) SEO Tasks for Small Businesses
Like most small business owners, you're probably busy running a successful business and don't have the time to become an SEO expert. Maybe you've hired an SEO firm, but you're not seeing any increased rankings—or more importantly—increased business.
In this article, we'll share with you seven simple SEO tasks that you can start doing right away. Some consist of making changes to your website while others focus on getting people to link back to you.
These tasks don't take a lot of effort to put into practice, and you don't need to be an "SEO guy" to gain a competitive advantage.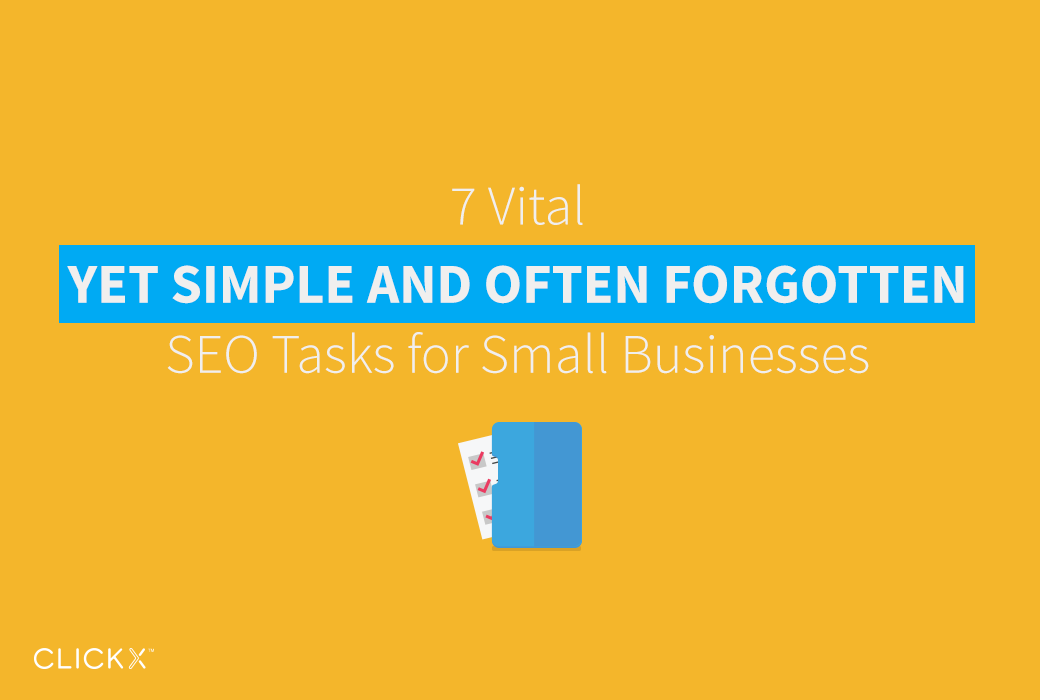 1. Install the Yoast SEO WordPress Plugin
Proper SEO consists of both on-page (changes made to your website) and off-page optimization (getting links back to your website)—not old school SEO tricks.
Our WordPress SEO plugin of choice—Yoast SEO—is freely available and tremendously popular, with over one million active installs.

Once installed and activated from your WordPress backend, it enables you to perform nearly all important on-page SEO tasks. There's also no shortage of online documentation, tips, and tutorials should you get stuck. The premium version starts at $69/year and comes with email support and added features like a redirect manager.
All in One SEO Pack is another well-liked SEO plugin, but here we focus on Yoast SEO.
2. Yoast SEO: Optimize Your Page Titles and Descriptions
Next to a page's content, the title is the most important on-page SEO ranking factor. It briefly describes your content and is the first thing people see when your page appears in a Google search engine results page (SERP).
For small service businesses, you'll generally include keywords at the beginning of your title, brand at the end, and a benefit (and location) if it applies.
"Boston tow truck | Quick, affordable, call 24/7 | ABC Towing Inc." would work well for a local Boston towing company. For more guidance, Search Engine Watch has an excellent resource on how to write title tags.
Although not considered a ranking factor, a page's meta description shows up below the title in a Google SERP. It should accurately describe your content in 160 characters or less, and be conversion-focused to encourage click-throughs.
Here's how to set them both: below the post editor in your WordPress back end, scroll down to the Yoast SEO section and click to set your title and meta description in the Snippet Editor:

3. Add Alt Text to Your Images
Alt text is a snippet of text that can be included when adding an image to your content. It's intended to describe accurately the image for people unable to see it, and is useful for SEO purposes as well.
WordPress makes it easy to add alt text, so include any relevant keywords here (while still accurately describing the image):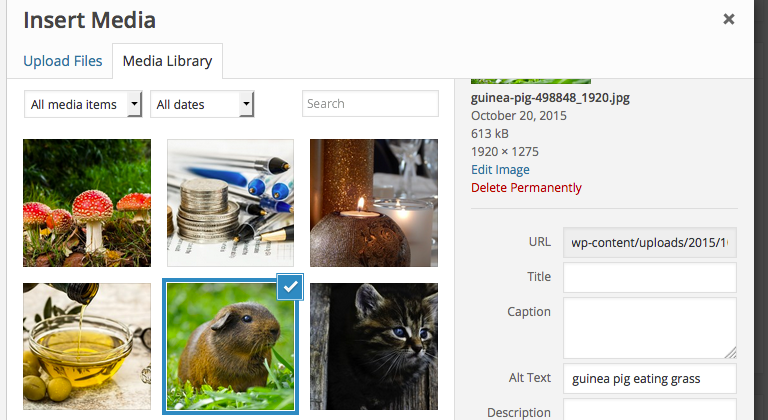 Avoid the temptation to add extra, unrelated keywords in an attempt to trick the search engines. They have some ability to 'understand' images.
Include alt text with any new images, but add them to existing images as time permits too; it'll only help.
4. Install a Caching Plugin to Improve Overall Site Speed
We've covered this important topic on the blog already, but in short, Google considers page load time a ranking factor. And, if visitors hit the back button before your site even loads, all your SEO efforts will be for nothing. Site speed matters.
[Tweet "If visitors hit the back button before your site loads, all your SEO efforts will be for nothing"]
Caching plugins like W3 Total Cache and WP Super Cache enable your website to serve up fast, static web pages to visitors and search engines.

Test your website speed at Google PageSpeed Insights, but you'll find nearly all sites can benefit from caching.
5. Install a Sharing Plugin to Encourage Social Shares
Opinions differ on how much social signals directly affect website rankings, but sharing your content on social networks gets you exposure and can lead to backlinks. Also, Google reads your Tweets.
Social platforms are used for content discovery and if your content resonates with a user, they'll hopefully share it with their followers, increasing your exposure exponentially. If your content is memorable, eventually somebody will link to it from their own website, resulting in a valuable, unsolicited backlink.
SumoMe and Shareaholic are popular free plugins that can be installed easily from inside of WordPress. Once activated, you'll have social sharing buttons automatically added to your posts, with many different display options available.

6. Acquire Local Citations and Keep Your 'NAP' Consistent
For some local businesses, getting quality backlinks can prove difficult. Business directories, on the other hand, have no problem listing your business Name, Address and Phone number (NAP), and can be great sources of local citations—an overall ranking factor for local SEO.
Search engines may have difficulty determining that "Bob's Cleaning at 3rd and Main" and "Bob's Home Cleaning Inc., 1200 W Main St." are the same business, so keep your business contact details uniform and consistent.
There are many places to get local citations online—with or without a backlink— but be sure to get listed in the following five popular directories: Yelp, Google My Business, Bing Places, Yahoo Local, and YellowPages.

7. Link to Your Own Content as Well as Others'
Google says linking out to other quality sites is encouraged, and to satisfy the important off-page component of SEO, you'll need to get high-quality backlinks to your site.
The Editorial Assistant by Zemanta plugin analyzes your content and suggests related posts from other websites you can link to. They also recommend your content to other bloggers and publishers, which can result in gaining quality backlinks.

Internal linking—linking to other pages on your website—is important for SEO. It also keeps visitors engaged and browsing on your site, reducing bounce rate.
Bonus Task: Ensure Your Website is Mobile-Friendly
Google is favoring mobile-friendly websites in the mobile SERP results, and according to BrightLocal, "61% [of mobile users] are more likely to contact a local business with a mobile site."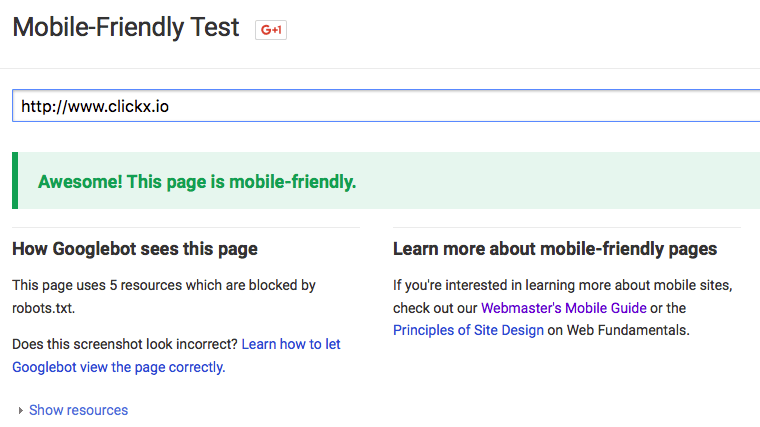 The Google mobile-friendly test tool enables you to test your current website. If it's determined that your website isn't mobile-friendly, here's what you can do:
For simple sites without custom design or development, consider switching themes. Look for words like 'responsive', 'mobile-ready' or 'mobile-friendly' in the theme description.
Outsource a new design or hire a developer to make your website mobile friendly.
Conclusion
By setting aside an hour or so each week to perform one or more of these overlooked SEO tasks, you'll be well on your way to having a properly optimized website.
To recap:
Install an SEO plugin (we like Yoast SEO)
Optimize page titles and descriptions
Include descriptive alt text with images
Improve site speed with a caching plugin
Install a social sharing plugin
Get local citations keeping your NAP consistent
Link to both internal and external content
Lastly—though it's not always a quick fix—ensure your website is mobile-friendly. Your well ranking website is unlikely to retain visitors if it performs poorly on mobile.
Can you think of some other simple SEO tasks that help improve your ranking? Let us know in the comments.