What Questions Should I Ask to Qualify a Lead for My Agency?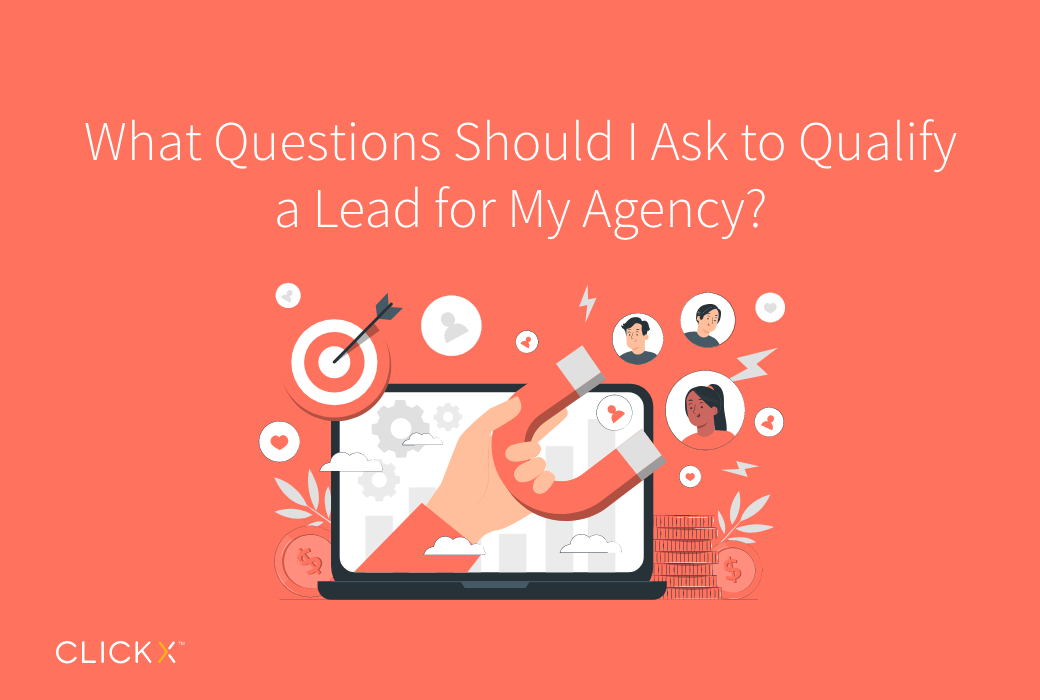 Starting an agency means I should be having as many conversations with as many possible prospects as possible right?
Not quite. Sure, we love a new partner who's out in the field, conducting market research, asking prospects questions to build strong relationships that will eventually turn into customers. But, you've got so much time as an agency.
There are hundreds upon thousands of potential clients that will need your services so finding a structural way to qualify leads before getting on the phone with them will be crucial to saving you huge amounts of time and money.
The truth is a large sum of potential leads just won't be able to afford your services. While you may have the desire to help out as many clients as you can, you just can't save them all. After all, your goal is to run a high-performance agency and that will cost clients serious upfront costs if they want to reap the rewards of your agency's work.
In order to avoid any time waste, leads should have to fill out a form or submit an application that proves they are qualified to work with your agency.
The Framework You Need To Qualify
When it comes to qualifying prospects we tell our partners to use a simple acronym: B.A.N.D. In other words: Budget, Authority, Need, and Timeline.
Let's break down how you can qualify leads using each of these.
Budget: How much is the brand planning to spend on your services?
Has the customer set aside a budget for this project? Are they interested in learning more about what you do but have already allocated their marketing dollars? Make sure customers are serious about putting forth a check before you disclose all of your secrets.
Authority: Is the individual a decision-maker or an influencer?
Many times business owners will have receptionists, interns, or even influencers look into various marketing solutions. This person is still a great contact for you to speak to but you should be mindful of how much influence they have. Did they just join the company? This will affect how much effort you put into preparing for your sales call with them.
Need: What are the businesses overall need?
With tens of different solutions in marketing figuring out which solution for a business owner can be tricky. Sometimes the business owner can clearly state their problem and in reality, there are several different solutions they may need. It could also be that your agency necessarily isn't going to be the best solution for them. Ensure the lead is able to expand on what they are specifically interested in learning more about so during the sales call you can educate them.
Timeline: What is the timeline for implementation of the solution?
Is the lead browsing or is this an urgent need? Either way, you should be cautious about taking this client on. On one hand, if the client plans to do some 'shopping for the next 6-8 months then spending a vast amount of time preparing for the call or even explaining solutions to them can be a drain on your time and energy. On the other hand, if they are the type of client who is looking for a solution ASAP, they could be a sign they want all of your attention and you only have so much bandwidth.
Make Sure Your Qualification Process is Sufficient
Lastly, even though a lead will go through the qualification process and you may learn later they weren't quite qualified.
For example, sometimes after a sales call the lead might say, "I need to talk to my partner." Always start calls by asking the lead if they are the decision maker. If they say no, than ask if they'd like to reschedule a better time where all contacts can join the call.
Another example of disqualified leads getting past the 'wall' is when the need isn't actually clear. A lead might think they need marketing but it could be that their sales process isn't' sufficient. As a marketing consultant, it's your job to dissect all parts of their business and help them find a viable solution.
Check out more videos on our Youtube channel. Let us know what you've found useful and other tactics to close clients and finally kick your agency into high gear!
Ready to See How Clickx Can Help Your Agency?
Reach out to our team where we'll get on a discovery call to assess your agency's needs and see if we can be the partner that can help you reach your goals.
Looking for a community to engage, learn, and grow with? Our weekly advisory board brings new agency owners, as well as those with 15+ years of experience together to tackle everything from winning higher-ticket clients, optimizing your time, and delivering tremendous value.