How to Decide When to Optimize Your Landing Page for SEO or Conversions
Measuring the performance of a landing page can sometimes be frustrating, especially if you pay attention to the wrong metrics in your analytics program. It goes without saying that a lack of information on how to improve your landing pages' performance can seriously undermine your content marketing strategy.
Often, the metrics you should follow will change depending on the landing page—some will perform well in search engines results, while others rake in high conversions. Either way, both play an important role in your content marketing sales funnel.
In this post, we'll walk you through setting the focus for each of your website's landing pages. By the time we're finished, you'll be able to follow the right metics to improve performance over time. Are you ready to tighten up the effectiveness of your site? Let's get started!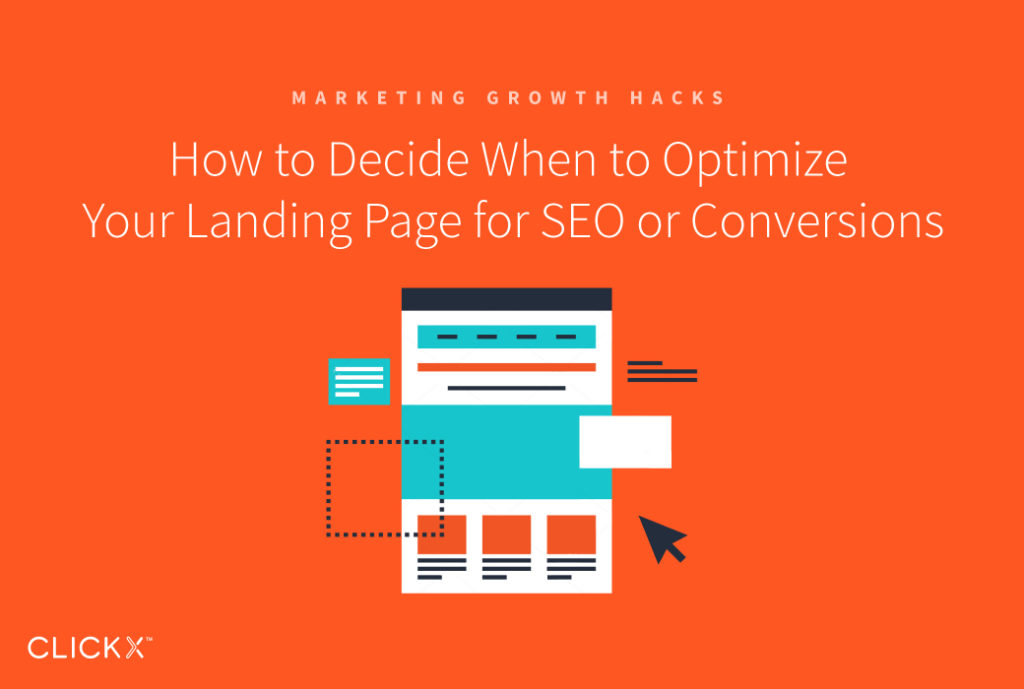 Key Takeaways
There are two primary types of business landing pages.
Failing to focus on one or the other can lead to self-sabotaging outcomes.
Search engine optimized landing pages should focus on high search engine traffic and low bounce rates.
Conversion driven landing pages should focus on high conversion rates.
What is a Landing Page?
Google defines a landing page as "A web page which serves as the entry point for a website or a particular section of a website." This counts for pages and posts on your website that you expect new visitors to find. Essentially, it is any public facing page on your website.
[Tweet "A landing page is any public facing page of your website designed to attract new visitors."]
Google Adwords defines quality landing pages as:
Offering relevant, useful, and original content.
Promoting transparency and fostering trustworthiness on your site.
Effective landing pages put an emphasis on quality over quantity. They concentrate on accomplishing a single goal by removing all extraneous elements—so you should remove anything that distracts the reader from the goal of the page. As a result, you'll incentivize the visitor to keep reading by crafting content that highlights the benefits relevant to them.
There are two primary reasons for a business to use a landing page:
To attract and qualify leads, referred to as Click Through landing pages.
To convert leads, referred to as Lead Generation or Lead Capture landing pages.
Let's now look at how you define the purpose of the landing page you're working on, and how it changes the way you structure and measure its success.
How to Identify the Purpose of a Landing Page
Each type of landing page has a unique goal:
Click Through pages focus on ranking high in search engines and attracting new traffic.
Lead Capture pages focus on converting the reader to take a specific action.
Mixing these two goals is challenging and often leads to poor results in both areas. When in doubt, lean towards optimizing for SEO.
[Tweet "Mixing the intentions of a landing page leads to sloppy results. When in doubt, optimize for SEO."]
It's better to choose one primary purpose per page, so let's take a look at the qualifying factors for each to help you decide.
SEO-Focused Landing Pages
At its core, an SEO-focused landing page should be highly informative in order to help the reader discover or learn something. Simply put, it's a resource page.
If you aren't sure whether your page should be built with SEO in mind, look for these signs:
The page is filled with useful content for the reader.
The reader is not expected to buy something from the page.
The page should earn editorial links from around the web.
Visitors to the page may or may not be qualified leads yet.
The call to action leads to another landing page (Learn More About XYZ, instead of Buy XYZ Right Now, for example).
As we mentioned before, different landing page types call for different measurements of success. For SEO-focused landing pages, keep these goals in mind:
Reduce the page's bounce rate. This goes down when people click through to the next page, which is exactly what your goal is.
Increase page engagement. If the reader spends a lot of time on your page, there's a good chance they are consuming your content. This increases the likelihood that they'll follow through on your call to action.
Increase your Click Through Rate (CTR) from search engine results. Boosting your traffic brings in more visitors, which increases your chance of qualified leads. What's more, it only takes a few quick SEO tweaks.
Conversion-Driven Landing Pages
The intention of a conversion page is to make a sale. In other words, the content is designed to get a qualified lead to buy or invest in something.
Before getting too deep into conversions, it's a good idea to review the basics. When it comes to counting conversion rates, any investment counts as a sale. This includes money, a call, or personal information. If a user subscribes to your newsletter, it's a newsletter conversion.
Here are the signs that you should optimize a page for conversions over SEO:
The content is intended for a highly targeted audience.
The content is written to help the reader make a final purchasing decision.
The reader is expected to make a purchasing decision on the page without viewing any other landing page.
Visitors to the page are ideally qualified leads.
The call to action leads to a purchase, or an action-driven page such as a shopping cart.
For best results, your conversion-driven landing page should have a minimal design. Use negative space to make your call to action clear and easy to find, and don't be afraid to add urgency to the pitch—for example, by creating a limited time offer.
Here's how your conversion page fits in with the rest of your content marketing strategy:
Conclusion
Failing to define the purpose of your landing pages can leave you tracking the wrong analytics. Don't let this mistake waste your valuable time and resources, as doing so leaves potential leads and sales on the table.
To avoid this problem, be sure to choose a primary purpose for each page and optimize it accordingly. Let's recap:
SEO-focused landing pages aim to increase search engine traffic and reduce bounce rates. They're effective when driving traffic to conversion-based landing pages.
Conversion-driven landing pages zero in on high conversion rates. They center around actionable content for qualified leads who are making a final purchasing decision.
Do you have any questions about your own landing pages? Ask away in the comments section below!