White Label Platform for Marketing Agencies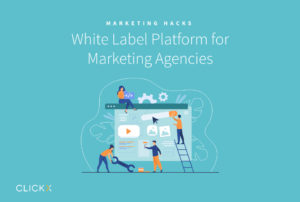 There's one big challenge every agency owner will face sooner or later. It's a growth challenge. No matter what industry you're in, you're going to hit the mark where something has to change. And one of the easiest and most effective ways to get your business to the next level is by using a white-label platform.
Understandably, you've got questions. Clearly, we've got answers! Keep reading to clear all your doubts about white-label platforms. What is it? How does it work? And ultimately, if you go for it, how will it help you scale?
Let's roll!
What is a White-Label Platform?
To put it simply, a white-label platform is a piece of software made by one company to be used by others under their branding. "White-label" in this sense means that it's fully customizable, and the company that buys white-label software from the provider can use it as their own product to serve their customers. Think of it as a blank template in which you can write whatever you want.
The main goal of such platforms is to automate marketing and sales processes, either partially or fully. Ideally, with a white-label platform, you want to be able to turbocharge your entire sales funnel from the very top to bottom and up until customer service.
What is White-Label Digital Marketing?
One common question businesses ask when they consider white-label marketing platforms is what services are actually included. The answer is, it may vary, but typically, one can expect assistance with content creation, SEO, PPC, web development, lead generation, sales support, and so on. If we're talking about Clickx, there's also an employee training, resources center, premium support, and much more.
Who Needs White-Label Solution?
A good white-label solution helps to overcome the most common revenue growth challenges, such as:
No technology infrastructure to scale;
Not enough people in the team to acquire and retain clients;
No resources to provide quality employee training;
No transparency with clients;
No track record of success.
In fact, any agency that struggles to grow pretty much in any industry can benefit from using white-label software.
What are the Benefits of White-Label Solution?
White-label solutions are great in the sense that they save businesses a lot of time, money, and effort. You don't have to go through multiple rounds of trial and error to ensure the best service to your clients. All the processes are basically set up. Everything that's left is to put your brand's logo on it and start working.
White-label software is ready-made, meaning that you will be able to start with it immediately. After a quick setup and easy onboarding process, you can take some time to look around, get yourself familiar with the platform, do all the necessary customization, and voilà! You're good to go.
From the cost and time perspective, there's no better, more effective way to grow your business than using white-label software. No need to build your own product, to gather and train the team, and so on. Everything is already polished and ready to use.
Since white-label software is literally plug-and-play, you get an opportunity to focus all your attention on things you do best – your core services. Marketing and sales will be taken care of and in case something goes wrong with the tech, a provider takes the full responsibility to fix it.
No matter what business you're in, your customers are always looking for an easy way to fix their problems. A white-label platform helps you provide it. Just take the necessary tool from a bunch of what's available and do your job. It doesn't get simpler than that.
White-Label Marketing Automation
The idea behind marketing automation is that it frees you up from repetitive tasks, simplifies workflow, and fulfills your resource gaps so that you can serve your customers better. You get a bunch of tools with your logo on, everything is hands-free, everybody is happy.
However, "marketing automation" doesn't make marketing fully autonomous. It will automate the core activities, such as social media posting, emails, lead capture, performance tracking, and reporting, but your involvement is still going to be necessary.
That said, marketing automation with the adjective "white-label" goes beyond the standard functionality. In Clickx, for example, it encompasses lead generation and sales support, client-facing fulfillment work, team training, and white-label resources you can use as proof of your expertise.
5 Essential White-Label Platform Functionalities
Below are the core white-label platform functionalities you will encounter in most market offerings.
White-Label Lead Generation
Lead generation is one of the biggest challenges most agencies face, and white-label tools can help to overcome it. You can use the vendor's tools and services under your name to deliver unforgettable sales presentations and attract more qualified leads to your funnel.
Also, you'll be able to gather valuable insights into the most important digital marketing metrics, including:
the accuracy of local business listings;
social media metrics (clicks, impressions, etc);
online reputation across the major platforms (Google, Yelp, etc);
digital advertising performance;
website analytics;
SEO (on-page, off-page).
Equipped with all those insights, you increase your chances to win more clients.
White-Label Project Management
Given the amount of work that marketers need to deal with, a set of solid project management tools is a must. White-label project management helps you stay organized and provide the best service to every client. With a good task manager, you should be able to:
get rid of the complicated technicalities that prevent the team from doing the work;
organize projects and make them easily accessible to all the contributors and stakeholders;
set up transparent approval and revision processes;
manage deadlines and project timelines;
be able to show proof-of-performance on demand;
get all the necessary tools to monitor successes.
As a CEO, you'll be able to scale at your pace and utilize the resources in the most efficient manner possible.
White-Label CRM
If you don't have a CRM yet, this is a must for a growing business as it brings you closer to your clients and enables you to provide the best customer experience. With a decent CRM, your sales team will be able to track their progress and your sales managers will be able to create better performance reviews and more accurate projections.
It's also going to be useful for everyone who is tired of juggling between multiple platforms. You'll have everything you need in one place with your logo on it. White-label CRM normally incorporates a bunch of powerful tools, including contact management, activity tracking, probability analytics, email logging, KPIs tracking, and so on.
White-Label Client Portal & Reporting Dashboard
White-label platforms have separate login portals for you as a buyer and your client as the end-user, and this is something you will never have with CRMs and marketing platforms. The typical elements your clients can expect to see in a portal are:
marketing automation that will enable your clients to simplify repetitive tasks;
ROI reporting that will help you showcase the value you bringing for the clients;
digital store where your clients would be able to access any time.
White-Label Fulfillment Services
Lack of resources to do the actual work is a widespread problem among agencies. White-label services is a great way to solve it. These are the professional services provided to your clients by the vendor on your behalf. White-label fulfillment services make scaling a breeze.
The vendor will work closely with your team to make sure that you meet all the client's expectations. White-label fulfillment services cover PPC advertising, web development, reputation management, social media, blogging, etc. With this massive support, you'll never have to worry about your team's bandwidth or lack of experience.
A Comprehensive White-Label Platform — Clickx
What if you found a platform that combines everything we've just listed, plus a couple of ripe cherries on top of a pie? It exists and available for you to try. It's called Clickx and it's an all-in-one software used to plan, execute, and measure your inbound marketing. This comprehensive platform helps agencies manage all of their marketing needs and scale using our fulfillment resources.
Agency Growth Marketing Support
If there's a shortage of leads, you might have a problem at the top of the funnel. Our team works closely with our clients to identify blind spots and develop an effective digital marketing strategy. Also, the Clickx platform has a few clever tools that you can use to generate more qualified leads, 100% white-label.
White-Label Website Grader
This is a white-label website auditor and it's super easy to use. Scan your prospect's website through the Grader. It will generate a shareable report, which is going to be branded as your own. The report assesses on-page and off-page SEO factors, gives an overall website score, and points out all the opportunities and improvement areas.
ROI Calculator
Use Clickx ROI Calculator to illustrate to your customers what ROI they can expect on a Paid ad campaign if they invest a certain amount of money. It's a great way to estimate the outcome both for the best and worst-case scenarios. Again, ROI Calculator is available for our agency partners, completely white-label. You can even embed it on your website to help your customers make a final decision.
White-Label Agency Sales Support
Clickx platform is amazing in the sense that it provides comprehensive sales support to our agency partners, from white-label resources to 1:1 coaching.
Resources for Your Sales Team
We have a bunch of ready to use resources that you can integrate into your sales process branded as your own. Case studies in various industries, creative design portfolio with landing pages and ad banners, large documents & content library with proposals and strategy recommendations — it can become a part of your successful pitch.
Clickx Academy and Agency Growth Coaching
Our Agency Partners get access to the Academy. It's a collection of courses recorded by our experts to help you improve your sales and marketing skills and get the most out of our tools. Also, we provide hands-on support and 1:1 coaching to help you get through the most challenging periods of growing your agency.
Agency Sales Process Development
If you are looking for more help with your sales process, the Clickx team has got your back. In addition to our fulfillment resources, you can get more support with the sales process development. Together with one of our experts, you'll go through your prospects' buying journey and refine your sales process so that you can achieve much better results.
Premium White Glove™ Fulfillment
Clickx fulfillment services are more than white-label in its typical meaning. Our people don't just do the work and hand it over to the client. We handle all your client communication, take care of your emails, and support you in any way we can. That's why we call it white glove™.
Onboarding new clients with Clickx is super simple. All you have to do is go to your portal, schedule a kick-off call with the selected account, and our team will take care of the rest. Clickx platform will track every possible metric 24/7 so you'll be able to generate customized reports for every customer whenever you need them.
Also, you can request digital marketing consultation with our experts, should you have any difficulties in the process. Finally, as an agency partner, you get personalized and priority support with any issues you may encounter in the process. We are always there to help you out in any way we can.
Come See Clickx in Action!
We invite you for a live test drive of Clickx! Grab your spot at the Live Q&A & Test Drive of Clickx Agency Growth Platform. We're going to cover the fundamentals of agency growth and share our tips on how to maximize Clickx tools for your success.