The Clickx Rank Tracker: A Perfect Replacement for the HubSpot
You've probably heard that keywords are the backbone of any SEO strategy. While properly targeting the right keywords can get your content seen by more people, aggressively focusing on a few phrases won't result in the same SEO improvements as it might have a few years ago. If you want your SEO strategy to be successful, you need to go beyond basic keyword research.
Fortunately, a keyword rank tracker tool can help you create an SEO strategy that actually builds traction with your target audience. Using this approach, you can keep an eye on how well your content is ranking in relevant searches, which enables you to perfect your keyword strategy. Continuously adjusting the keywords you're targeting is a smart way to encourage better results.
Hubspot's Keywords tool has been a valuable part of many people's SEO strategy for a while now. However, it's being retired, which may leave you looking for a replacement. As it turns out, the Clickx rank tracker is the perfect alternative. Let's find out why!
Key Takeaways:
Although keywords are still relevant to your SEO strategy, the Hubspot Keywords tool is being sunsetted in 2018.
Fortunately, the Clickx app is an excellent replacement for Hubspot's tool.
In addition to providing similar keyword tracking features, Clickx offers an all-in-one solution to improve your rankings in search engines.
An Introduction to the Hubspot Keywords Tool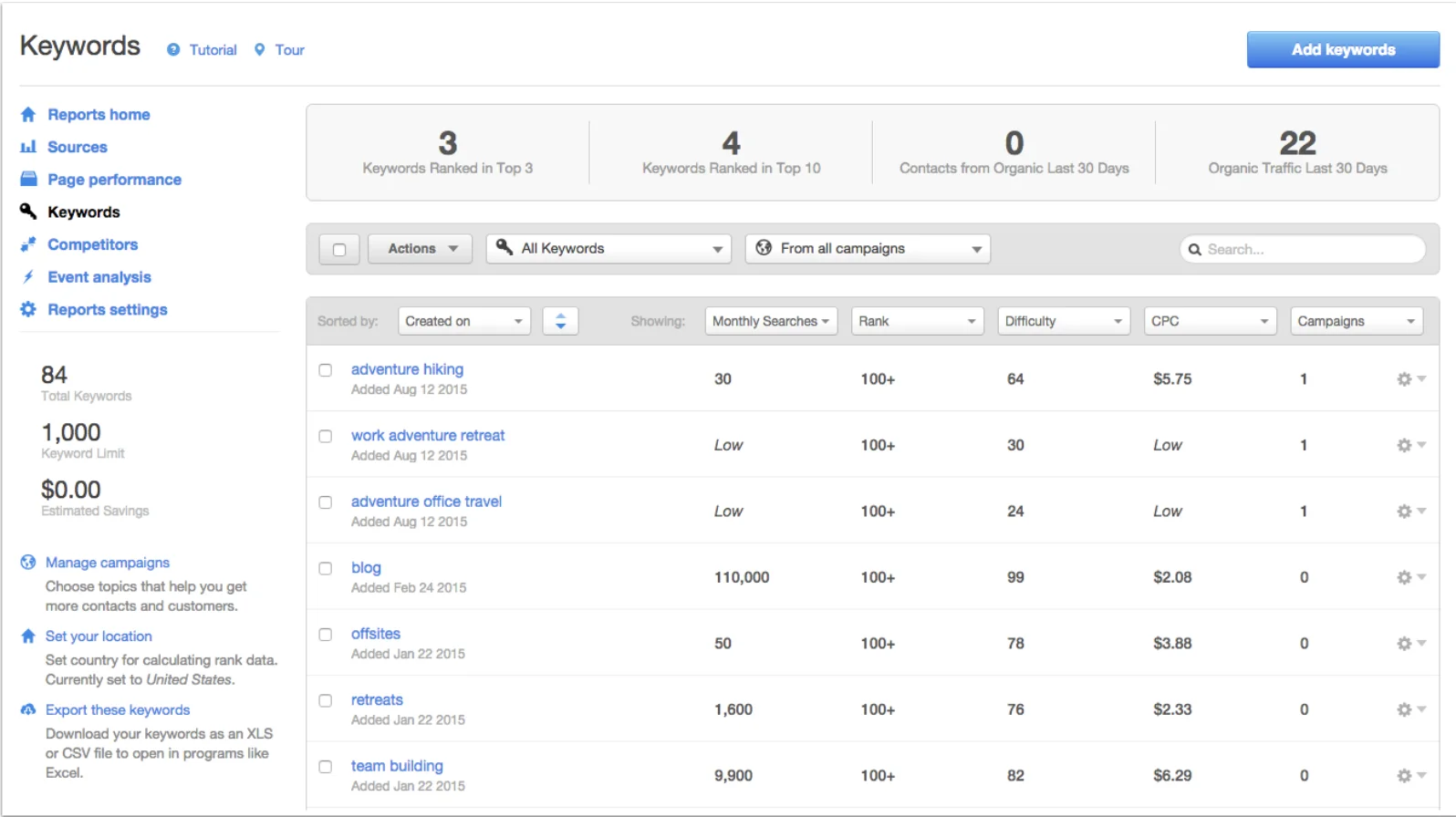 Hubspot's Keywords tool provided an all-in-one solution for conducting keyword research, tracking rankings, and finding new phrases to target. With this tool, you could see how highly your keywords were ranking, how much competition those keywords faced, and how many monthly searches each keyword appeared in.
Overall, this kind of solution is incredibly useful, since it's designed to help you improve your visibility online. Through monitoring how different keywords are ranking in specific searches, you get in-depth look at exactly how your target audience is browsing the web. As you learn more about the customers you're trying to attract, you can refine your keyword strategy to better get their attention.
In addition, the Hubspot Keywords tool also gave you an opportunity to monitor your competitors' SEO strategies. Through discovering which keywords other businesses are targeting and ranking highly for, you can identify important keyword opportunities you may have missed. Monitoring competitors also helps you gauge how strong your own strategy is when compared to other key players in your niche or industry.
Why the Hubspot Keywords Tool Is Being Sunsetted in 2018
As you can see, Hubspot's Keywords tool did a lot to help out with your SEO efforts. For that reason, it's been a popular choice for some time. However, in February 2018, Hubspot made the decision to 'sunset' (or retire) this tool.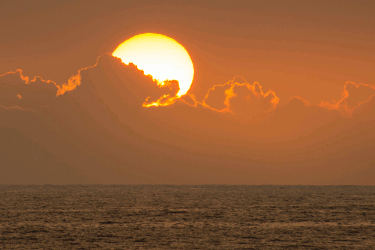 Citing key changes in the way people conduct online searches, Hubspot has decided to shift their SEO focus from keyword-based to content-based strategies. Hubspot argues that users are no longer typing in a string of keywords or terms related to the results they're looking for. Instead, they're asking more focused questions, and making the intent of their searches more clear from the very beginning.
Therefore, Hubspot has decided to step away from the keyword rank tracking business. Instead, they've released a new content strategy tool designed to help their users create content that reflects what their target audiences are looking for. This is likely to be a useful solution, but it may leave you wondering how you'll track your keywords from now on.
Ultimately, Hubspot's decision to sunset its keyword tool does not mean that keywords are no longer relevant to an SEO strategy. It's true that keywords are not always enough to reach the very top of a search engine results list, and creating relevant, quality content is important. However, traditional SEO techniques are still vital. What's more, a quality keyword tool is still needed if you want to get your brand noticed online.
[Tweet "You need a quality keyword tool if you want to get your brand noticed online."]
Instead of discarding keyword tracking because Hubspot's Keywords tool is no longer available, this is the perfect opportunity to implement a new solution that provides deeper insights into how well you're ranking in search engines. Fortunately, you don't have to look far to find one.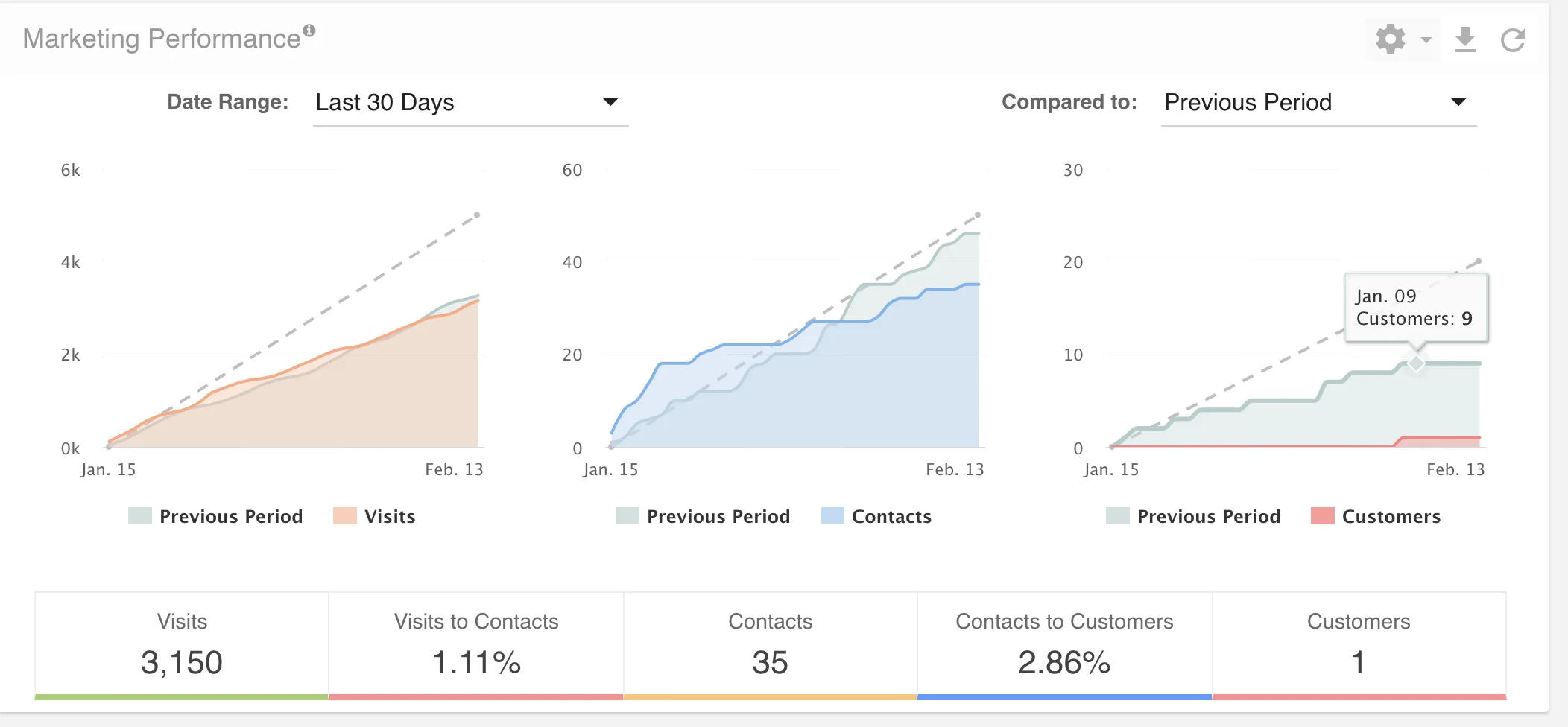 Clickx is an all-in-one marketing analytics tool that helps you track, monitor, and adjust your marketing efforts. Within the centralized Clickx dashboard, you can get a big-picture view of how well your campaigns are working, eliminating guesswork and enabling you to make more strategic decisions.
To do this, Clickx provides you with a wide variety of features. From site auditing to backlink monitoring and much more, Clickx makes it possible to create a website that gets noticed. Most importantly, it offers many SEO features and tools designed to drive more traffic to your website and produce better results in search engines.
It's key to understand that the Clickx app goes well beyond simple SEO reporting. In addition to helping you analyze your keywords, you can also use this tool to track your company reviews, expand your social media presence, and monitor your competitors. By putting everything you need in one place, Clickx enables you build a complete optimization strategy that reaches more leads.
7 Ways You Can Use Clickx to Improve Your SEO Strategy
As you can probably guess, the Clickx app makes a wonderful replacement for the Hubspot Keywords tool. Let's take a look at seven ways the Clickx app is more effective at helping you track your keywords and improve your SEO strategy.
1. Track Keyword Results by Country, City, and Postal Code
For local businesses, it's important to know how well you're ranking in the specific area you serve. While showing up in relevant nationwide searches is useful, if you're not appearing in local searches, you aren't connecting with the target audience members who can realistically visit your business. Not targeting your keywords to fit the city or state you're located in only wastes time and resources.
Fortunately, the Clickx app enables you to track keyword results by country, city, and even postal code. By narrowing down your results to focus on specific locations, you can see how well you're reaching the individuals within your geographic target audience. Plus, you'll be able to compare target audience members' search habits in different areas.
You can track the location of your visitors by going to the Web Analytics section of the Clickx app and selecting Locales:


This will bring you to a breakdown of the different areas your website visitors are from. By taking a big-picture look at the sources of your website traffic, you can begin to understand whether or not you're targeting the right local keywords.
2. View Suggested Keywords
Selecting the right keywords to target is a challenge just about every marketer faces when developing an SEO strategy. You need to consider what your target audience is looking for. Then, you need to determine the words or phrases they're using to find those things. However, this is easier said than done.
Clickx helps you throughout the keyword research process, by providing you with suggested keywords you might not have thought about. Under the Keywords section of the Clickx app, you can select Opportunities from the menu at the top. From there, you'll be shown a list of keywords that fit within the spectrum of words and phrases you've already decided to target: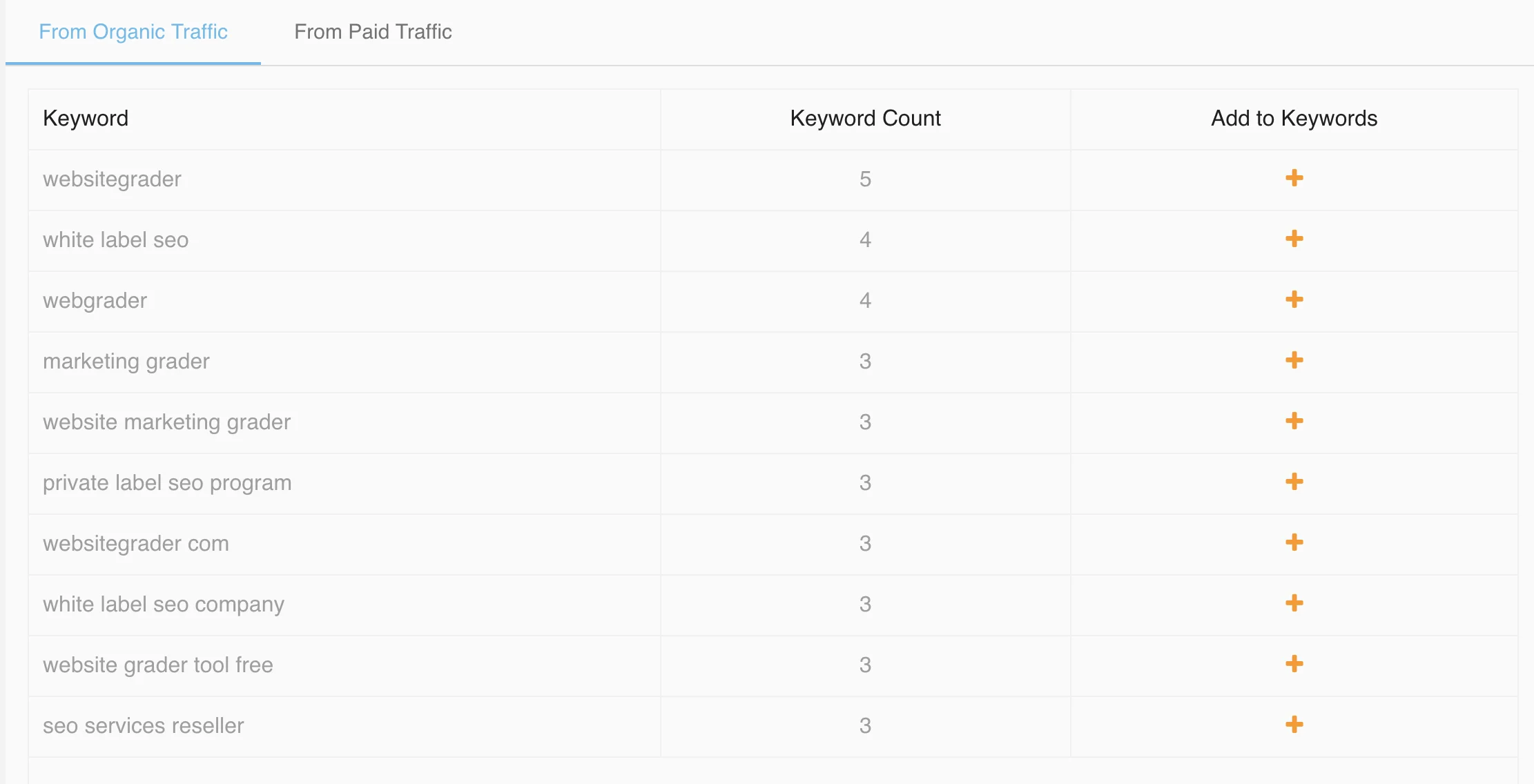 The Clickx app provides you with keyword suggestions for both organic and paid traffic, ranking the opportunities by keyword count. This helps you easily see which suggested phrases are worth targeting, and diversify your keyword mix in general.
3. Keep an Eye on Your Competiton
A great SEO strategy not only gets you in front of the right target audience, but also makes your content more visible than your competition's. When you appear on a Search Engine Results Page (SERP), you want to be the first listing your target audience is drawn to. If your competitors are ranking higher than you, you may be overlooked.
The Clickx app lets you monitor what your competition is doing to promote their own businesses online. Within the Competitors section of the Clickx app, you can select a specific competitor you would like to view: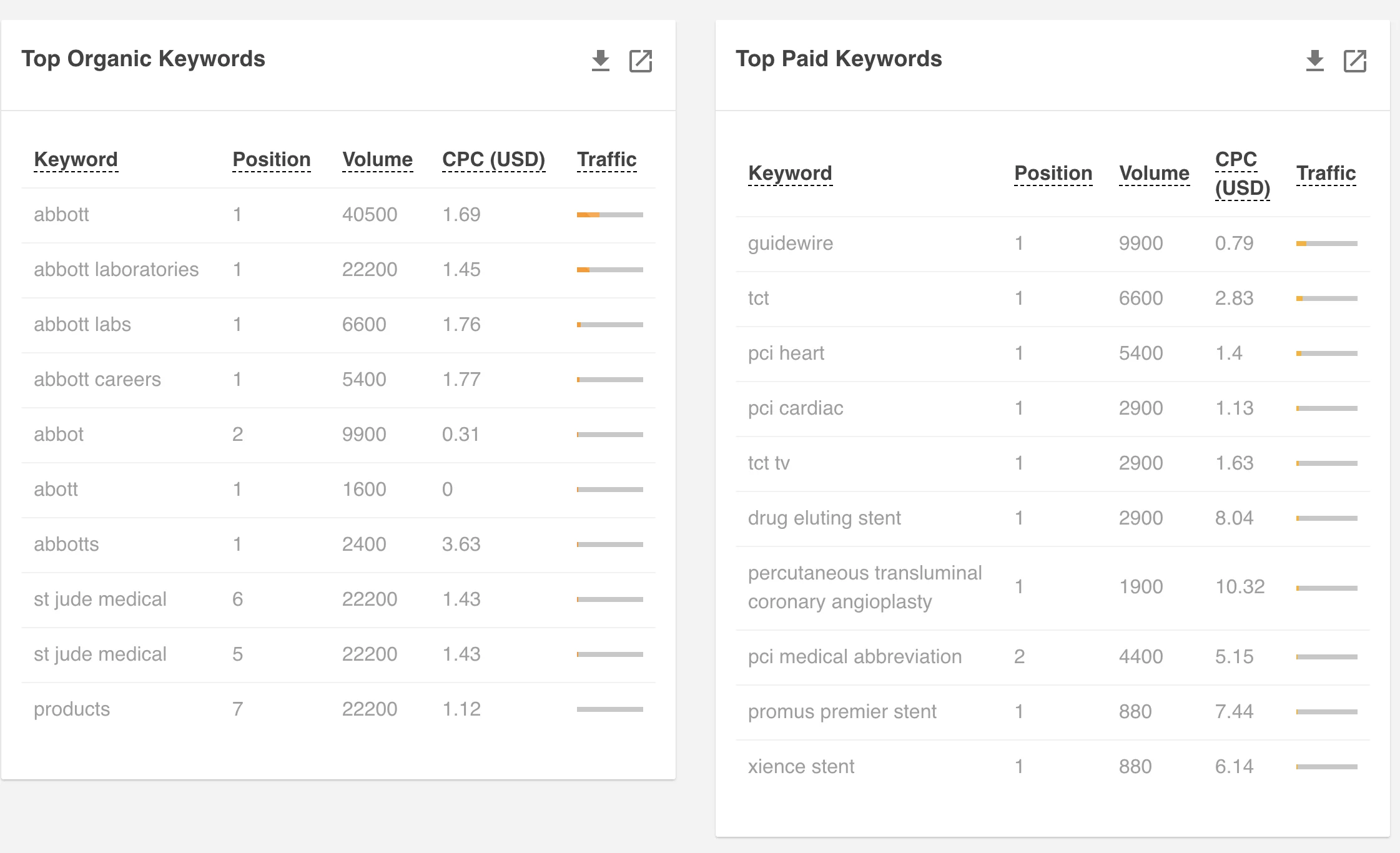 On that business' main page, you'll see their top organic keywords as well as their top paid keywords. You can compare their rankings and keywords to your own. By analyzing the keywords they're targeting, you can see if they are outranking you for key phrases, or targeting keywords you should also be using. Then, you can adjust your strategy to be more competitive.
4. Receive Weekly Update Reports
Tracking keywords and SEO strategies can be time-consuming. No matter the industry you serve or the size of your team, it is isn't always easy to find time in your day to check in on how your keywords are ranking. However, if you don't keep an eye on your keywords, you may soon find your content slipping in search engine rankings.
To help you stay on track, Clickx will send you weekly update reports about your keywords, rankings, and competitors. These messages are delivered right to your inbox. That way, you can get an overview of how your strategy is performing without needing to open an app or a browser.
Weekly reports are a perfect way to stay updated on the progress of your SEO strategy. Having this information readily to hand ensures that your rankings won't slip too far without you noticing. Instead, you'll know right away if major changes need to be made. Of course, you'll still want to check the main Clickx dashboard periodically. After all, the app can provide you with deeper information than the snapshot offered in weekly reports.
5. Access Updated Keyword Data Every 24 Hours
Search engine results can change constantly. This means you need to stay on top of how the rankings are shifting day to day. If you want to ensure that your SEO strategy stays competitive, you'll want to have real-time data that can help you make strategic changes as quickly as possible.
To help you out, the Clickx app updates keyword data every 24 hours. Each day that you log into the app, you know you're getting fresh, relevant information that you can use to make smart decisions. You'll know exactly what shifts in your strategy you need to make right away. This can save you valuable time.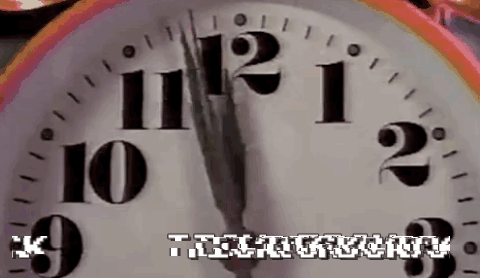 These daily updates help you track even the smallest changes to your SEO strategy and keyword rankings. Keeping an eye on these little shifts can help you avoid the need to ever go into crisis mode. It's best to check in daily, to see what new data Clickx has to offer you.
6. Tag Keywords for Better Organization
When tracking keywords, your dashboard can easily become cluttered. You'll likely use your website to target a number of keywords, each related to different campaigns and goals. Trying to monitor them all from one place can become complicated and confusing. By grouping your keywords together through tags instead, you can evaluate how each set is performing without being distracted by irrelevant data.
Clickx enables you to easily add tags to your keywords. On the main Keywords dashboard, you can then filter your results by tag. You can also view and manage your keyword tags by selecting the All Tags tab at the top of the screen: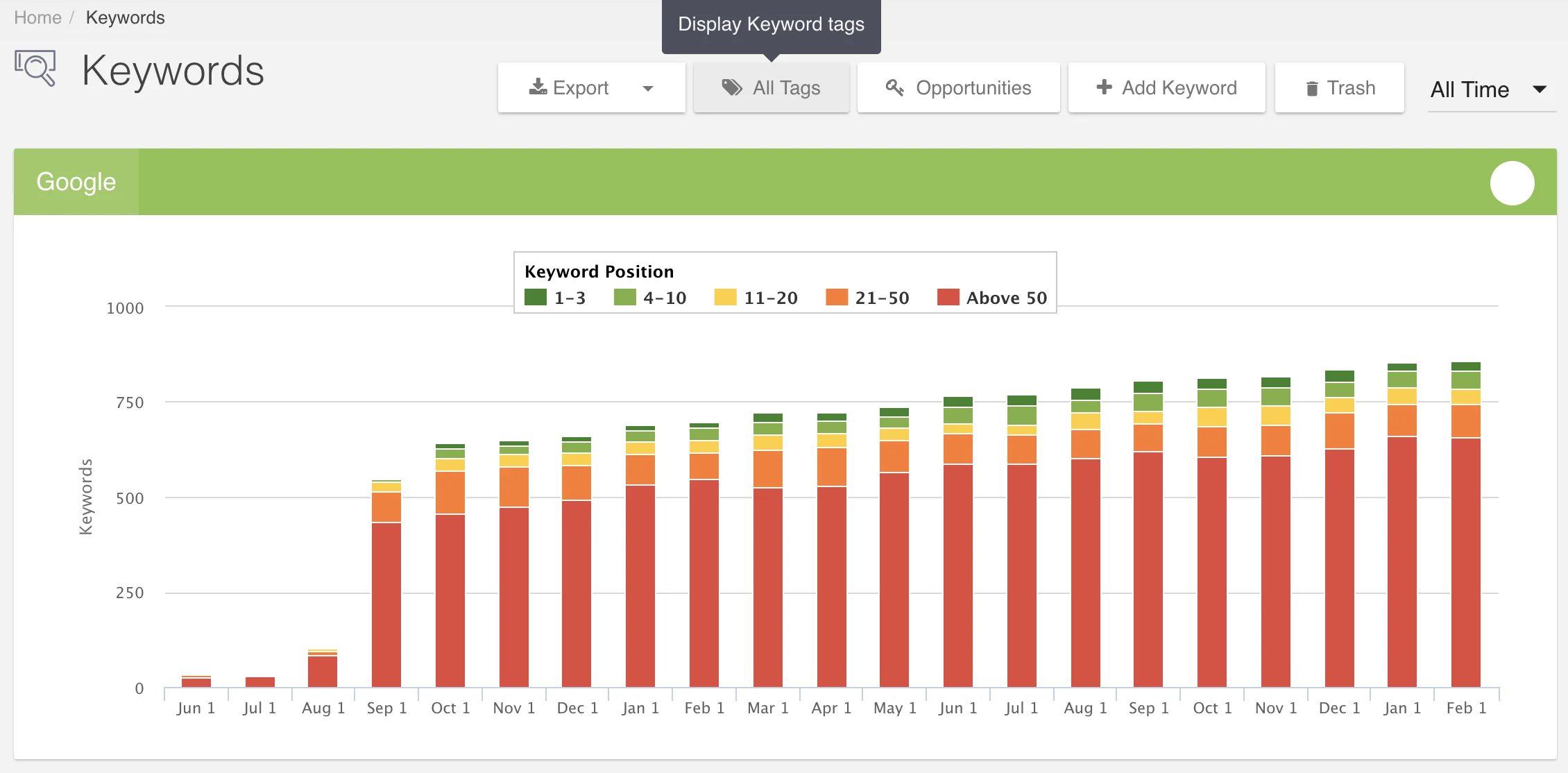 You'll want to develop a tagging strategy before you begin grouping your keywords. Keeping your tags simple, specific, and unique can help you stay organized. Each tag should have a clear purpose, helping you track your progress towards a goal or accomplishment that is relevant to the keywords it includes.
7. See a Complete History of Your Keyword Rankings
While your day-to-day keyword rankings are important, it's equally as vital to know how your content has progressed over time. If you're only looking at short-term movements, you'll often miss the big picture changes and events that tell you whether your current strategy is working.
Clickx provides users with a complete history of how their keyword rankings have changed over time. Within the same graph, you can also see how the keywords you're targeting compare to each other. By monitoring the history of all your keywords, you can track which words or phrases are moving up the SERPs faster.

Monitoring the history of your keyword rankings enables you to see trends in search behavior. Watching how each keyword moves up or down can give you insight into how well your current strategy is performing, and also how your target audience's needs are shifting. Through tracking the progression of each keyword, you can understand what terms are most relevant to the individuals you're trying to attract.
Bonus: Help Your Entire Team Work Together
Finally, having your entire marketing team on the same page is crucial for the long-term success of your SEO strategy. While each member may not impact your SEO strategy directly, everything you work on – from content to social media – will factor into how well you are ranking. This means that you'll want to give your entire team access to your ranking tool if possible.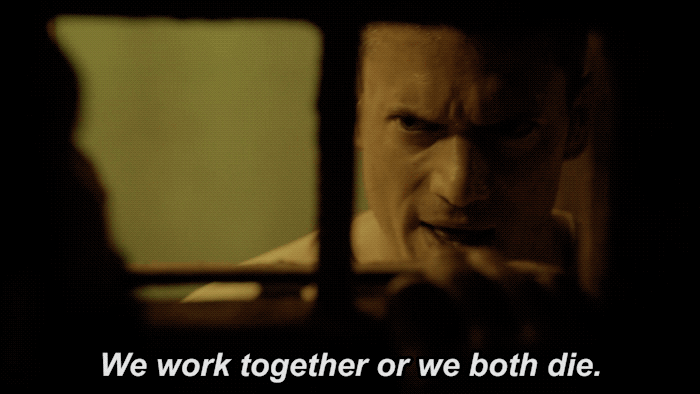 With Clickx, you don't have to worry about user limits. You're free to invite your entire team to access your dashboard. This gives you the opportunity to bring your entire team up to speed without needing to break your budget. When each member can access the dashboard using their own credentials, you can make smarter collaborative decisions that move your company forward.
Additionally, the various features of Clickx can help your team members make more strategic decisions together. Whether you're hoping to track sales leads or you want additional insights on how you can better connect with your target audience, Clickx provides you with the information you need to bring each area of your marketing to the next level.
Conclusion
Hubspot may be sunsetting its Keywords tool, but this doesn't mean keywords will become irrelevant to your SEO strategy moving forward. In fact, keywords are still a vital way to get your content noticed. Using a rank tracking tool such as the Clickx app helps you move your content further up on search engine results pages, improving its visibility.
The Clickx rank tracker does what Hubspot's Keywords tool couldn't do – incorporate keywords into a modern SEO strategy. It provides users with a complete focus on everything SEO. In addition to keyword features and tools, Clickx helps you monitor your online reputation, track the location of your website visitors, view suggested keywords, and much more. With Clickx, you'll have everything you need to be successful online.
Which Clickx feature do you think will improve your SEO strategy the most? Let me know in the comments section below!