How to Boost Traffic and Attract High Quality Links With Expert Roundup Posts
When you create content for your business, it can be a challenge to present your information as unbiased and authoritative. How can you, someone with something to sell, present objective data?
Thankfully, you can not only create this kind of content, but also double down by creating a surge of qualified traffic to boot. The secret recipe? Feature experts within your industry weighing in on a hot topic. It's a two for one! First, you'll build authority by associating your brand with qualified experts. Second, your experts are likely to share your post with their own audience.
The technique is simple, but finesse and planning are required to plan a post that drives high traffic. Today, we'll show you the step by step procedure of building a successful expert roundup post.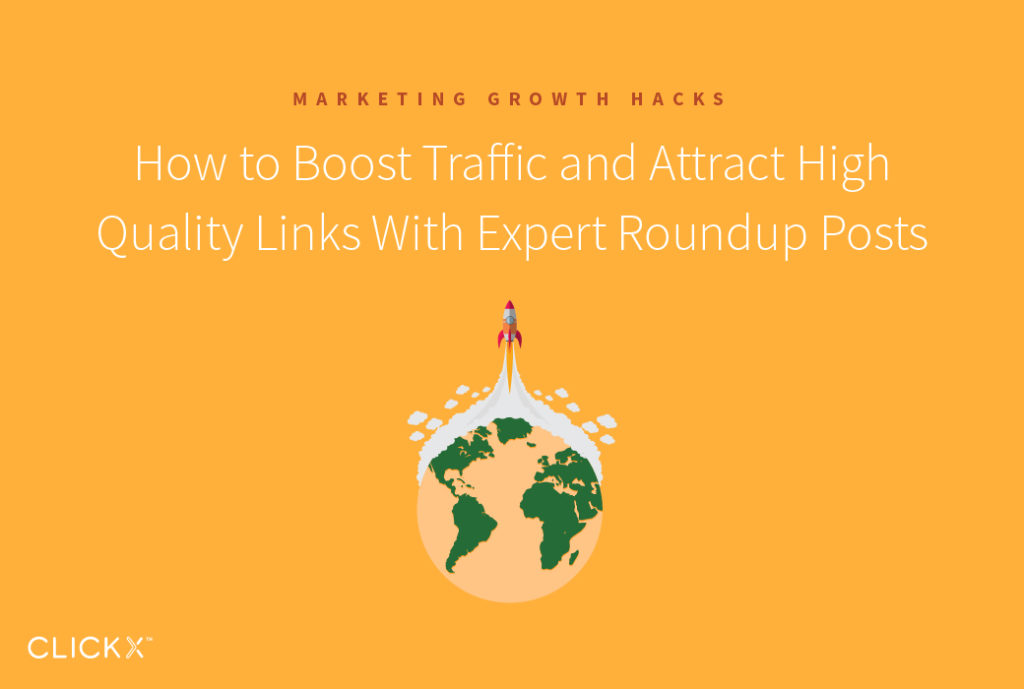 Step 1: Choose a Roundup Theme
Before you can do anything else for your post, you'll need to define a theme for your roundup to focus on. This means choosing one question to ask each expert.
But what makes a good question? You can find out by taking the following into consideration:
What does your audience really want to hear the answer to?
What pain point will the answer to this question solve?
How big of a problem does this play in your audience's daily life?
Is the problem so boring your experts won't be interested in answering?
Generally speaking, the bigger the problem is, the more interest your post will garner.
[Tweet "The bigger the problem your question addresses, the more interest expert opinions will create."]
Now that you've considered what it takes to craft a good question, here are a few places to brainstorm ideas for your theme:
Read through common customer questions in emails.
Ask your customer-facing staff what customers frequently pester them about.
Ask your subscribers what they want to know.
Check relevant, active LinkedIn groups.
We're willing to bet you can find at least 2–3 interesting questions in these forums. Each question can eventually become its own post!
Step 2: Contact the Experts
Now that you're armed and ready with a viable question to ask your experts, it's time to get some of them on board.
Start out by looking at existing roundups within your field. These are the experts who are familiar with the process, willing to answer questions publicly, and therefore more likely to do it again.
Looking these up is as simple as googling along the lines of: "[your industry] expert round up"
Depending on your industry, you can use variations. Let's say you provide roofing services. Instead of only using the word "roofing", you might include similar words like "construction", "roofing contractors", "commercial roofing", and so on. Ideally, these searches will lead you to find exactly the kind of posts you are looking to write.
Now, there's also the chance that no one has bothered to create a roundup post yet! That means less competition for you, but you're starting from scratch when it comes to sourcing your experts. In that case, you can move on to the next step.
Next up, you can branch out and search for other authoritative bloggers within the industry. We've already talked about finding quality blogs a few times. Check our our steps to creating a blogger hit list.
Essentially, the trick is to search in the right places. Follow the steps in the links above, using the following sites:
After finding your experts and collecting their emails, it's time to reach out with your question. Formatting this email properly is critical to getting replies!
Here are the steps we recommend for the best possible results:
Keep the question simple and specific. Vague, open-ended questions usually get skipped.
If you don't know the expert, try to find a mutual connection. They're more likely to answer if they know you.
Keep the whole email short and sweet. Ain't nobody got time for anything else!
Contact a lot of people, if only to increase your chances of answers.
However, don't send mass emails! Contact each person individually, addressing them by name. It'll take longer, but you'll get a higher hit rate and be able to sleep at night, knowing you're not a spammer.
Set a (reasonable) deadline.
In order to keep better track of your experts, you should use either a spreadsheet or your CRM to make sure you've followed up appropriately.
Here's the spreadsheet we set up for this purpose:

You can see here we're keeping track of each expert by name, email, whether or not they sent back an answer, and when we sent them the final post. We'll talk more how to follow up in a minute.
Step 3: Publish and Promote Your Post
You've made it so far! Your questions have gone out, you've had at least a few experts reply, and it's time to publish and promote your post.
Writing the post is pretty simple. Here's the basic format:
Introduce the topic and question.
Format your experts' replies.
Wrap up by using the replies to form an actionable conclusion.
Now your post is publish ready – what next? This is the part where you leverage your experts' influence.
There are two situations to continue emailing your experts after pitching them with your question.
The first is ensuring you get maximum replies. If a few days go by without any response, you can gently ask "Did you get my email?" and re-include your question for them to answer.
If they've agreed, you can continue to follow up as the deadline approaches if you don't receive their response. Don't overdo it here! And once they send in their answers, don't forget to say thank you.
The second is to let your experts know that the post is live.
Part of what makes expert roundups so successful is the fact that your experts are likely to willingly share your post with their own audience. Do not neglect this!
Here's what to include in this email:
A link to the published post.
Pre-built sharing links for your preferred social media sites.
With a little luck, most of your experts will participate by sharing your link across their own network (if you ask nicely!).
Conclusion
Believe it or not, building authority and traffic is an easier process than you think. When you get industry experts to weigh in on a sought-after topic, the pieces all fall together. The trick is in going about it the right away!
While an expert roundup post is straightforward, it still requires tact and attention to detail. To be successful, you must take the following steps:
Choose the right question to ask your experts.
Find authoritative experts who are likely to respond to you.
Compile your post, and make sure your experts have everything they need to share it for you.
Are you ready to produce your own expert roundup post now? If not, let us know what's holding you back in the comments section below!