How to Align Your SEO and Content Marketing Strategies
Where exactly does SEO fit in with your content marketing strategy? Is SEO a part of content marketing, or is it the other way around?
This is a common concern among business owners and marketers. It's not always clear where SEO ends and content marketing begins (and vice-versa). It doesn't help that the two fields are very closely related – you usually can't succeed at one without the other.
In this post, we'll break down the differences between SEO and content marketing. We will also show you how to align your SEO plan with your content marketing strategy.
But first, a quick trip down the history books.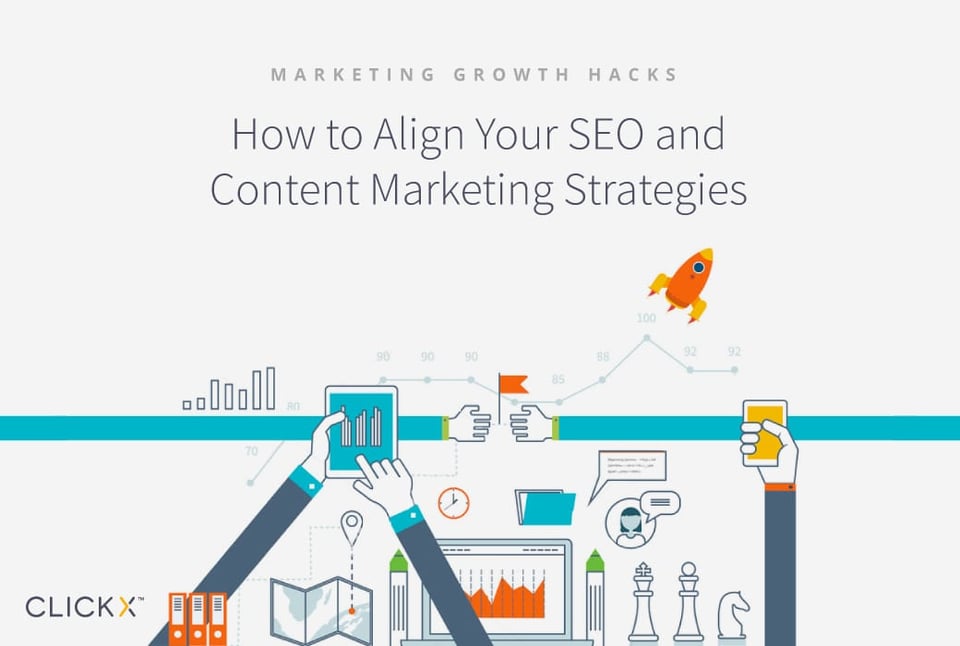 A (Very) Brief History of SEO and Content Marketing
"Content marketing" might sound like a new term. In fact, going by Google trends, no one was even searching for it until 2010.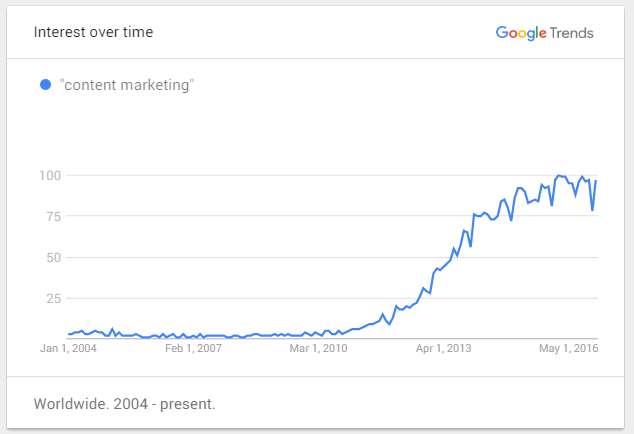 In truth, content marketing – the process of creating and developing content to educate and entertain potential customers – is a very old practice.
For example, back in 1895, John Deere, the tractor maker, launched a magazine called The Furrow. This magazine was aimed at farmers and included educational material, stories, and anything related to the agriculture industry.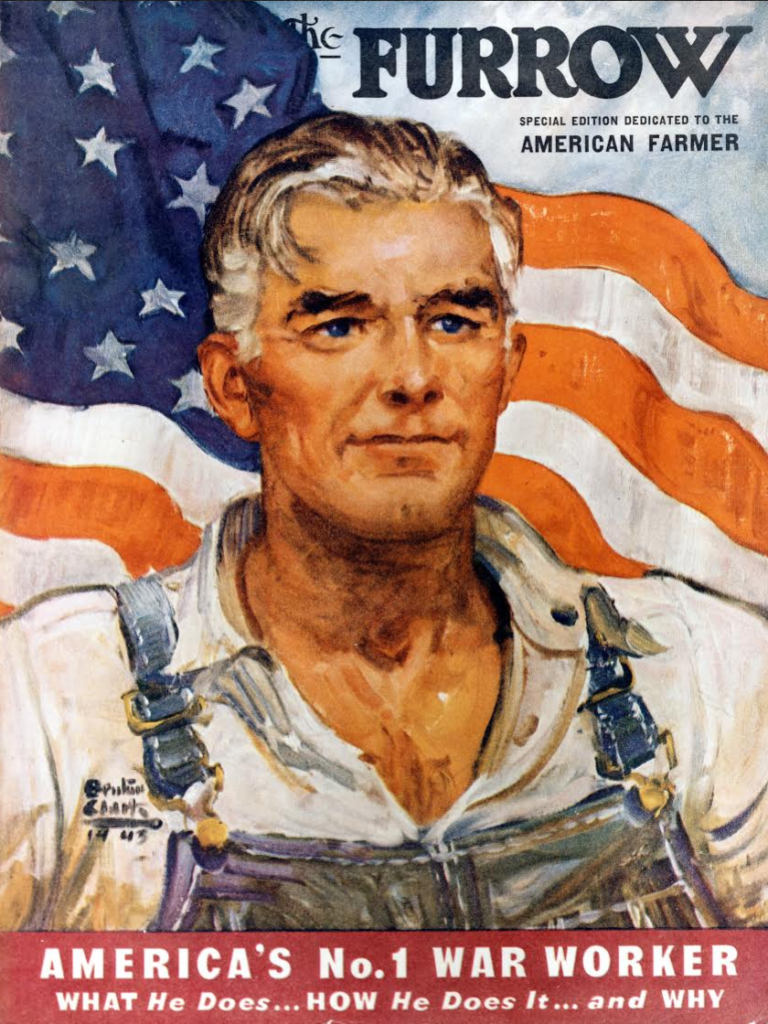 This is one of the earliest examples of content marketing. Since then, businesses have been developing different types of content – recipe books, movies, videos, etc. – to build a following with their target customers.
SEO, of course, did not exist before search engines. If you were to go back to 1990 and talk about "SEO", no one would know what you're even talking about. In fact, the term itself wasn't coined until 1995.
SEO is also exclusively online, while content marketing has a very large offline component as well, such as print magazines, books, TV ads, etc.
All of this is a roundabout way of saying that content marketing is a bigger and broader industry than SEO. It wouldn't be wrong to say that SEO is a part of content marketing, instead of the other way around.
SEO vs. Content Marketing
SEO focuses on helping web pages rank better on search engines by selecting the right keywords, optimizing on-page elements, building backlinks and creating relevant content.
Content Marketing focuses on educating and entertaining customers (existing and potential) through useful content. This content can be of any type – Slideshare presentations, articles, videos, animations, etc.
SEOs and content marketers usually have different goals. According to one survey, the top goal in any SEO strategy is "traffic generation" followed by higher rankings.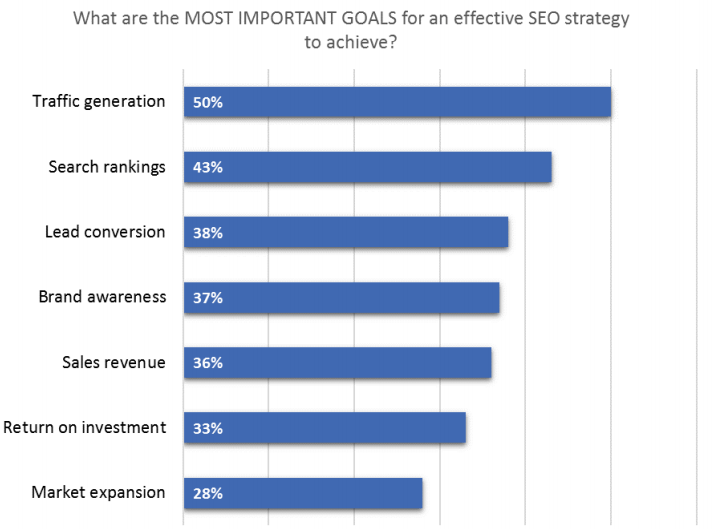 In contrast, content marketers focus on engagement and awareness. Traffic is a byproduct of their content, not its primary objective. In one survey, 84% of B2B marketers said that "brand awareness" was the top goal in their content marketing campaigns.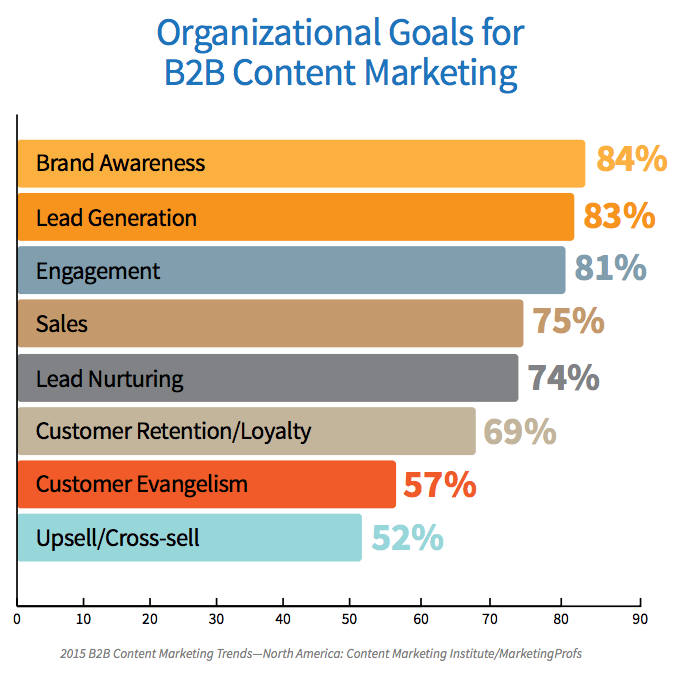 There is, however, one thing common between both SEO and content marketing: content.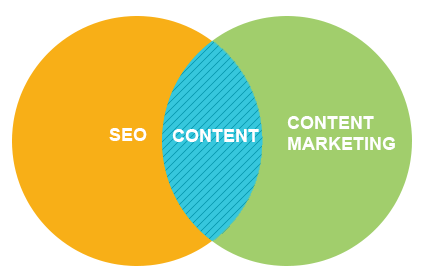 Content is the foundation of SEO as well as well as content marketing. You can't expect to rank well on search engines unless you have content worthy of strong rankings. Similarly, you can't expect to reach your customers with content marketing is the core ingredient – content – is not up to par.
Where SEO and content marketing differ is in the scope and objective of this content.
SEO-focused content is usually narrower, focusing on a single topic with established search demand. While entertaining, enjoyable content is great, the primary job of SEO-focused content is to answer a user's questions and thus, earn better rankings.
Content marketing content is usually broader. The objective isn't to rank well; it is to establish the business' brand and get it before as many people as possible. Strong rankings are just added bonus, not the primary goal of a content marketing campaign.
Understand that this distinction isn't very clear in 2017. As search engines move away from keywords, SEO-focused content is becoming broader as well. While you might have to create three separate articles for "white cars", "blue cars" and "black cars" in 2006, today, you can create a single article on "car colors" and do well in the SERPs (Search Engine Results Pages).
SEO, thus, is moving more and more towards content marketing. Instead of targeting keywords, competent SEO-content focuses on earning links by entertaining and educating audiences.
But if SEO and content marketing are so similar today, how exactly do you reconcile them in your marketing mix?
We'll show you below.
How to Align SEO with Content Marketing
If you ask content marketers, they'll tell you that there are two things they usually struggle with:
Getting their content before hungry, targeted audiences.
Getting long-term, "guaranteed" traffic instead of hit-or-miss social media promotions.
SEO can help content marketers with both these problems. By helping content rank better, SEO can ensure that marketers always have a source of targeted traffic.
In contrast, content marketing can help SEOs create better content. This can help them win subscribers, followers and readers who can be tapped for backlinks and shares to further improve rankings.
For this SEO-content marketing relationship to be mutually beneficial, you have to first align them. We'll show you how to do this below.
1. Identify your benchmarks
Both SEO and content marketing success flow from one thing: authority. If Google (and your readers) perceive yours to be an authoritative source of knowledge, you will likely win both readers and rankings.
Start by identifying what constitutes as "authoritative" in your industry. This is the benchmark you hope to achieve with your marketing. Any decision you make must be informed by a single question: will it help you become more like the benchmark in question?
It's important to pick a benchmark that reflects leadership in content marketing/SEO, not actual business size. Oracle might be the leader in enterprise solutions, but it is soundly beaten by several startups when it comes to SEO and content marketing presence.
Once you've identified a few benchmarks, make a note of their:
SEO metrics such as TrustFlow/CitationFlow, total backlinks, organic traffic and organic keyword rankings. Use ClickX's "Competitor Insights" for this.
Social metrics such as Twitter followers, Facebook fans, etc. Also note how often they update on each platform and what kind of updates do they share (images, videos, text posts or re-shares/re-tweets).
Content metrics such as how often they update their blog posts, what networks they use to promote their content (such as YouTube or Slideshare), and what kind of content do they create (blog posts, whitepapers, etc.).
Doing this will help you quantify your success and ensure that you keep on the right path.
2. Use SEO to guide content creation
Your SEO plan should inform the kind of content you create and what topics you create it on. While you don't have to exclusively create SEO content, it should occupy a high priority in your content calendar.
Content ideas: Use keyword data in your content brainstorming sessions. Prioritize ideas that revolve around your target keywords.
Content type: Longer content tends to rank better than shorter blog posts. For your chosen topics, try creating long-form content (>2,000 words) if possible. For certain keywords, it might be better to create an optimized YouTube video instead of an article.
Content formatting: Optimize your content for SEO before publishing. Make sure that you use the right header tags, include your target keywords throughout the content and use optimize meta descriptions.
Try to see your content marketing through the prism of SEO. You can still create your social-media friendly content, but the bulk of your focus should be on developing long-form, search-optimized content.
3. Focus on SEO in your content distribution
Most content marketers have a standard content distribution cadence. They might update their social channels, send out an email to subscribers and maybe buy a Facebook "boost" to drive traffic to a newly published blog post.
While this cadence might bring in traffic, it won't do much for your SEO. You want your newly published content to acquire links so it goes up in the rankings. A social media/email driven distribution strategy isn't enough in this regard.
Reorganize your distribution strategy to make it more SEO-friendly. This means prioritizing the following:
Link outreach: Develop a routine for identifying possible link targets for every blog post you publish. These might be people who have linked to similar content in the past, resource pages, etc. Reach out to these targets for a backlink whenever you publish a new post. This video has a good introduction on how to use email outreach for promotion.
PR & Influencer marketing: PR (reaching out to journalists for press mentions) and influencer marketing (reaching out to influencers for blog/social media mentions) are largely related. Both focus on developing long-term, mutually beneficial relationships. Invest time in cultivating such relationships. When you have an appropriate piece of content, you can tap these relationships for promotion (and backlinks).
4. Develop off-site content assets
An SEO-focused content strategy should have an off-site content component. The purpose of this content is usually two-fold: establish authority, and acquire backlinks. The former will help build awareness while the latter will improve your SEO.
Here are some off-site content assets you should create as part of your content strategy:
Guest posts on relevant blogs with large existing audiences. Share your best content on these blogs in exchange for readership and backlinks.
Infographics on relevant topics that can later be republished on different websites (with a link back to your site).
Presentations, videos, Quora answers, etc: Repurpose your existing content into Slideshare presentations, Quora answers, etc. Your objective here is to improve brand visibility and get backlinks to your site.
5. Optimize content for greater search visibility
While a lot of tactics shared above focus on off-site SEO (i.e. backlinks), you can improve search visibility through on-site tactics as well.
We've already discussed how you should be optimizing for on-page SEO by using the appropriate headers and keywords in your content. Beyond this, you should also consider doing the following:
Use Schema.org markup: Schema.org markup creates a semantic context for search engines and thus, makes your site easier to understand. This can help you get ranked higher in SERPs. Check out this guide to learn how to add Schema.org markup to your blog posts.
Optimize for rich answers: Rich answers (or "featured snippets") are short answer snippets that show up at the top of certain queries like "what is HTTP?". Getting a featured snippet can increase the CTR for your site in the SERPs. Optimize your content for these snippets by writing a short, one paragraph answer at the beginning of any article.
Optimize title for higher CTR: How many clicks you get from SERPs depends on your position as well as your title. An attractive title – with numbers (i.e. a listicle) and persuasive words – can often attract more clicks than a boring title with a better ranking.
Use SEO-friendly URLs: Short, keyword-rich URLs (such as "example.com/fast-cars") tend to rank better than long, hard-to-read titles (such as "example.com/2016/05/21/a/cars-you-need-to-see"). They also make for a better user-experience.
Improve site speed: Google considers site speed one of is core ranking factors. Improving it can improve your conversion rates as well as your rankings. Here's a handy guide on how to fix it.
This is just the tip of the iceberg; there are a lot more things you can do to optimize your content for better rankings. This post lists 15 things you should be doing right now for better on-page SEO.
6. Incorporate SEO metrics in your reporting
Finally, to align SEO with your content marketing, incorporate SEO metrics in your reporting. If you're currently using engagement metrics (time on site, unique pageviews, bounce rate) and traffic to evaluate the success of your content marketing efforts, expand your reporting to include the following:
Rankings for your target keyword(s)
Organic traffic
Domain authority
Backlinks and referring domains
You can use a tool like ClickX to get all this data in one single dashboard.

Take all the above steps and you'll have an SEO-focused content strategy.
Over to You
SEO and content marketing are more related than ever before. Strong content helps you rank better, while strong SEO helps increase your content reach. By aligning SEO with your content marketing strategy, you will better rankings, more traffic to your older content and a bigger audience for any new content you create.
How do you use SEO with content marketing? Let us know in the comments below!