The Best Way to Keep Your Clients Happy While Generating New Business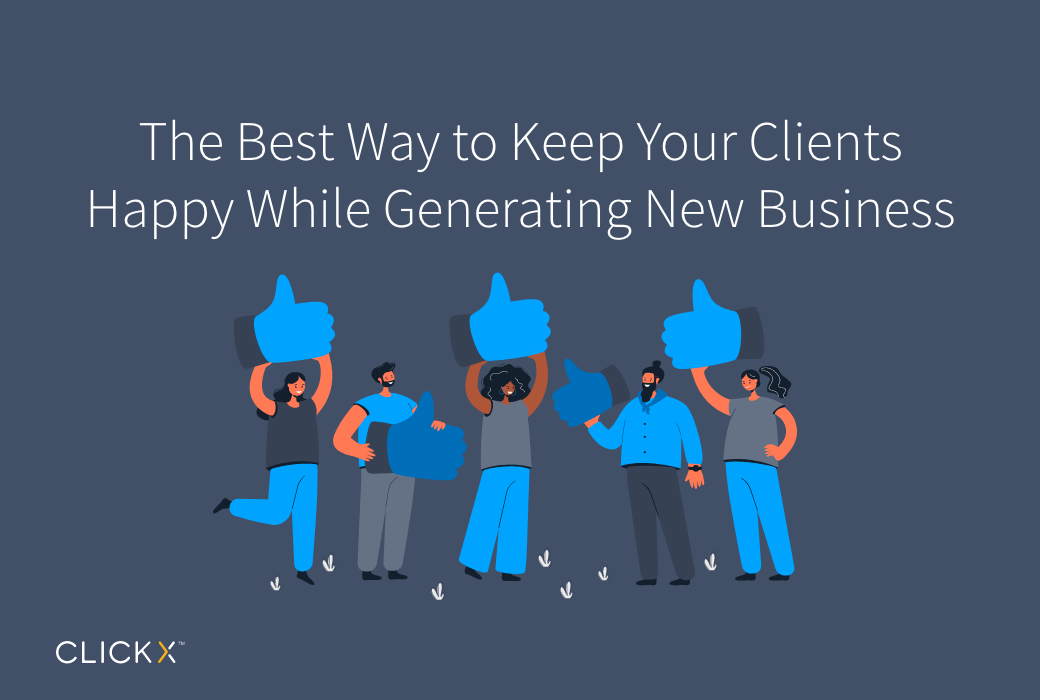 What's the best way to keep your current clients happy when you're focused on getting new business?
As an agency owner it's likely you spend 90% of your time acquiring new business. So another question emerges. How do you manage your current customers' happiness? How do you make sure you can take care of both aspects, which are equally important to your business?
If you are planning on growing and scaling your agency, new business is everything. At the same time, you cannot leave the current customers hanging while you are busy elsewhere. You're simply going to lose them.
Here's what you'll really have to decide when thinking about managing it all.
#1 Can you hire someone to handle the clients' part?
That's a dynamic question in itself as there are so many components from managing fulfillment to handling communication to retrieving reports. Try to offload some of the tasks to technology. For example, your clients dashboard or reports can be emailed to them directly or read in a number of different softwares. Could you hire a team to execute any part of the campaign you're not particularly skilled at? Say for example you're great at writing copy but you need to outsource someone to handle the website design and graphics.
Lastly, when it comes to client retention the number one rule is to establish boundaries and set clear expectations. When you first onboard a client you should send them a clear outline that explains the best times to communicate and on what frequency you will communicate. That way, they are not taking all of your time and you can organize your schedule to focus on other important tasks.
#2 Can you hire someone to manage the growth?
Not to lump all agency owners into buckets, but in my experience I've seen two types of agency owners. Those that LOVE and LIVE for sales and those that don't want a single part of it.
To be honest, some of us are in between and still have to figure out just how good we are at sales. Determine if you're better at explaining the technical side of digital marketing or if you're just better at connecting with others and getting them to really trust you. Both important parts of the sales process.
Know What's Best for Your Business
Look at your own skills and abilities. What are you good at? That's where you are going to focus your attention. The other part you need to delegate to someone who will be able to do a great job for you.
This is where a partner like Clickx can help. When helping our Agency Partners, we are doing the fulfillment work so they can focus their attention on growth. Another thing we do is our white-glove support, which allows our partners not to worry about a phone or email support.
So this is one of the ways you can do both – keep your existing clients happy and generate new business. Delegate to someone, whether it's an in-house person, a freelancer, a contractor, or a partner like Clickx.
Check out more videos on our Youtube channel. Let us know what you've found useful and other tactics to close clients and finally kick your agency into high-gear!
Ready to See How Clickx Can Help Your Agency?
Reach out to our team where we'll get on a discovery call to assess your agency's needs and see if we can be the partner that can help you reach your goals.
Looking for a community to engage, learn, and grow with? Our weekly advisory board brings new agency owners, as well as those with 15+ years of experience together to tackle everything from winning higher-ticket clients, optimizing your time, and delivering tremendous value.