Earn revenue from each referral when you promote
Earn 40% or more per subscription in the first year when you join the Clickx Affiliate Program!
When you sign up to be a Clickx affiliate, you'll receive a customized link to Clickx that you can share in your newsletters, on your website, social media posts, and LinkedIn bio — however and wherever you'd like! You'll earn a substantial commission for every agency that signs up for our services via your referral link.
Program Details
Commission: 40% of every referral sale in the first year
Payout Schedule: Monthly*
Marketing materials, banners, and swipes provided!
Types of professionals who qualify to become a Clickx affiliate:
Marketing and Sales Coaches
Training and Development Firms

Graphic Designer/ Web Developers

Executive and Performance Coaches
Product Benefits
Clickx offers a comprehensive set of benefits for agencies looking to scale their businesses. With Clickx, agencies can access white label solutions, including scheduling appointments, collecting payments, and offering fulfillment services like strategy, SEO, and social media advertising. The platform provides fresh leads with verified email addresses and contact information, along with pre-built lead generation funnels for booking more appointments. Agencies can leverage white label case studies and client portfolios to close deals and showcase their capabilities. Clickx also offers agency templates, contracts, and training resources for lead generation, sales, and niche development. With email prospecting and customer support channels, Clickx aims to help agencies grow faster and more efficiently.
*Minimum $100 affiliate commission earned to qualify for monthly payout.
Frequently Asked Questions
What is the Clickx Affiliate Program?
Who can become a Clickx Affiliate?
How does the Clickx Affiliate Program work?
How much can I earn as a Clickx Affiliate?
How and when do I get paid?
What resources are available to Clickx Affiliates?
How do I track my referrals and earnings?
How do I sign up to become a Clickx Affiliate?
Can I promote Clickx on more than one website or platform?
Are there any costs associated with becoming an affiliate?
Do I need to have a website to become an affiliate?
Can I refer customers from any country?
What if the person I refer cancels their subscription or asks for a refund?
How long does the affiliate tracking cookie last?
Do I need to know about digital marketing or SEO to be an affiliate?
How can I increase my affiliate earnings?
Please note that we reserve the right to alter the affiliate program rates and bonuses without prior notification. This may include introducing one-time bonuses. We advise regular communication with your affiliate manager or our email support for any queries.


Importantly, affiliate commissions are only applicable to our subscription fees, not for products fulfilled through our Clickx network or any other purchases made by the referred client during their account's lifespan.
Unlock the potential to generate a monthly revenue of $10K and beyond with our comprehensive support in lead generation to sales
Join our Clickx Fulfillment Network and unlock unlimited potential and flexibility, setting your own rates while working from anywhere.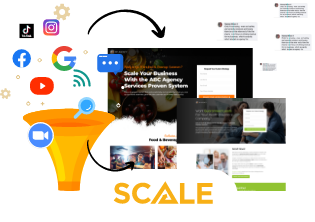 Confidently add an extra $30K - $50K/month in recurring revenue with our support in lead generation, sales and strategic coaching.