How to Properly Optimize Your YouTube Videos
Creating videos for YouTube is a great way to attract and educate new leads. However, if you're not making your videos easily accessible, they'll simply become a waste of time. If you want your videos to bring in new customers, you need to ensure that you're promoting them properly. This includes optimizing them for YouTube searches.
YouTube works much the same way as other search engines. When a user wants to find a video about a specific topic, they'll type relevant keywords into the search bar. Based on these keywords, crawlers will present videos that they feel to best fit the search. If you want your videos to appear in relevant searches, you need to properly optimize them.
To help you create the best channel possible and attract your target audience, let's take a look at what you need to know about YouTube optimization!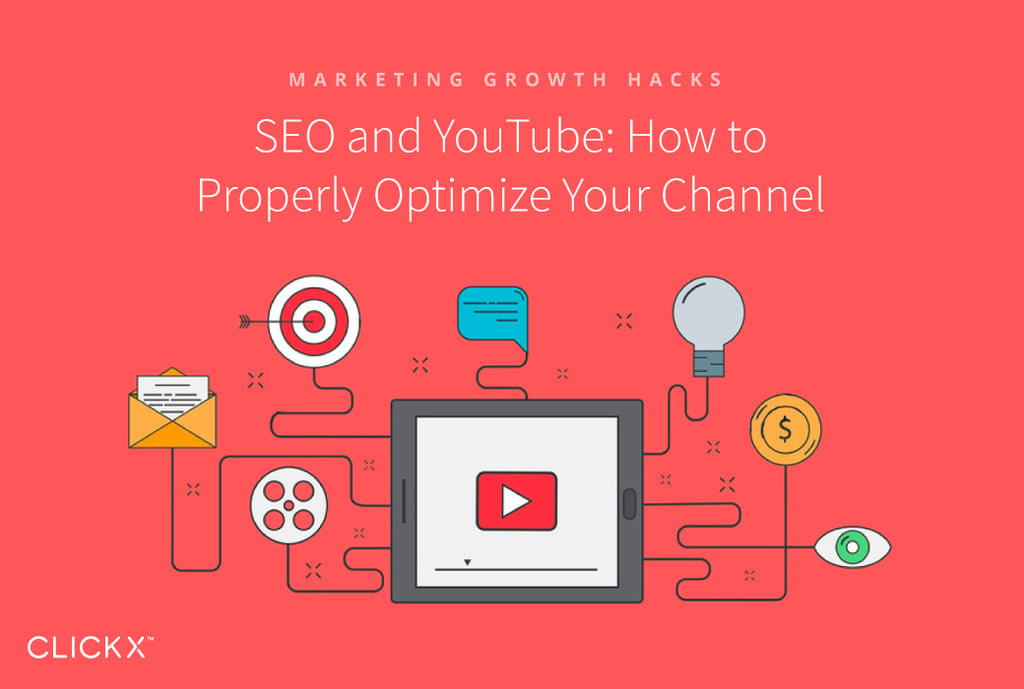 Key Takeaways:
Optimizing your YouTube videos can increase your chances of getting views and attracting qualified leads.
YouTube SEO is extremely similar to traditional SEO, relying heavily on keyword research and placement.
User experience, including engagement from viewers, will improve your chances of reaching the top of YouTube searches.
Why YouTube Video Optimization Is Crucial
Search Engine Optimization (SEO) is the process of optimizing pages, websites, and content so they appear higher in lists of search engine results. The higher the listing is, the better the chance a search engine user will notice the link and follow through to your content. While SEO techniques are most commonly applied to websites, they also apply to YouTube.
YouTube operates as an independent search engine. When someone is looking for a video tutorial, a review, or just some entertaining content, they'll type relevant keywords into the YouTube search bar. Just like with a traditional search engine such as Google, YouTube 'crawlers' will then browse through all relevant videos and display the ones that fit the search best.
[Tweet "Properly optimizing your YouTube videos enables you to attract more attention to your business."]
Properly optimizing your YouTube videos enables you to attract more attention to them, and by extension to your content and website. If your videos are ranking highly for relevant keywords, you can improve awareness about your brand while also educating your audience on services or products you can provide. The more attention you can get from your target audience, the more potential leads you can win over. In the process, you'll be growing your business and improving your sales.
How to Properly Optimize Your YouTube Videos (In 4 Steps)
Optimizing your YouTube videos is fairly simple, and only requires a few steps. Let's take a look at what you'll need to do if you want to improve your YouTube video rankings.
Step 1: Conduct Keyword Research
Before you can begin optimizing your videos, you need to understand the searching behaviors of your target viewers. By identifying popular terms, words, and phrases your target audience might type into a search bar, you can develop a list of potential keywords you'd like to target. Keep in mind that YouTube prioritizes keywords that have terms like "how to," "tutorial," and "review" in the title. Keyword research for YouTube is done in largely the same way you would conduct keyword research for a website or a traditional search engine. First, you want to make a list of terms or phrases someone might use when looking for your content. After you've come up with a few ideas, start researching how popular each keyword is online. In general, the keywords you select should be commonly used, but not so heavily targeted that you'll struggle to appear near the top.
Step 2: Properly Place Your Keywords
After you've decided which keywords you'd like to target, you need to place them in the right areas. Just like with a traditional search engine, there are specific areas YouTube crawlers will pay attention to first when looking for relevant content. If you include the right keywords in these areas, as in this example from Brian Dean at Backlinko, you can improve your chances of appearing in a search results list:

For a YouTube video, optimization begins when you upload the file. You want your keywords to be placed in your video file name, as well as in the title of the video and any tags you include. Not only will adding keywords to these areas help your users identify whether or not the video meets their needs, but it will also signal to YouTube that your video fits what target users are looking for.
Step 3: Write a Powerful Description
Your video description is another area where you'll want to include your keywords. However, simply stuffing your video description with terms and phrases your audience might be searching for will actually hurt your chances of appearing high on a search results list. YouTube crawlers are unable to actually watch your video. Therefore, your description is the only way they can determine what your content is about.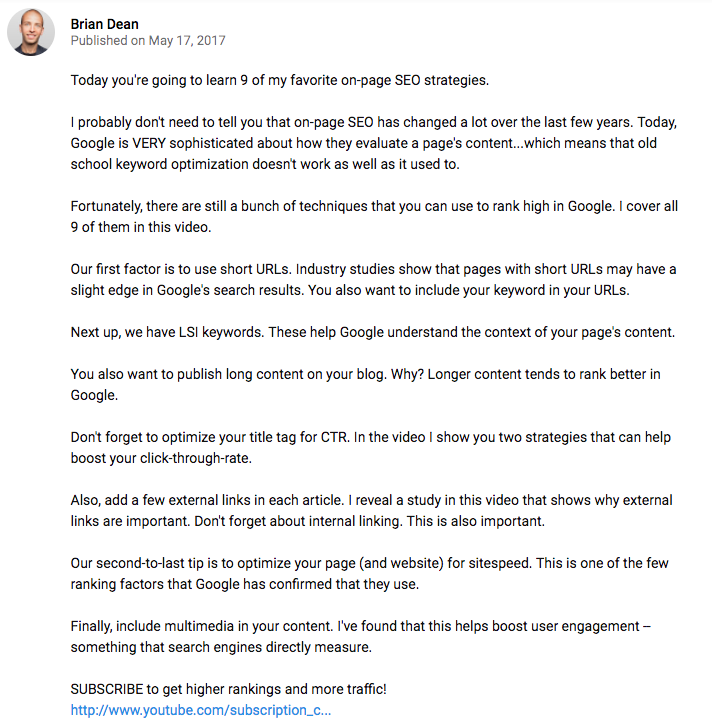 Instead, look to create a video description that is helpful to both your viewers and the YouTube crawlers, such as the above example from the same Brian Dean video. To fully encompass what your video is about, your YouTube video description should be at least 250 words long. It should also include your primary keyword about 3-4 times (and within the first 25 words if possible). However, make sure that you're integrating the keyword as naturally as you can, to avoid setting off alarm bells for viewers and crawlers alike.
Step 4: Focus on the User Experience
Keywords aren't the only thing YouTube will look at when determining where to rank your content. When suggesting videos to users, YouTube wants to guarantee that it is only recommending high-quality videos. This means the crawlers will also look at how viewers are engaging with your content. If YouTube believes you're providing a strong experience, it should boost your rankings.

To improve your users' experience when watching your video, you want to create content that they are interested in and find valuable. Understanding what they might be looking for online, what questions they may have, or what they need help doing can help you increase the amount of views and engagement (such as comments) that you receive. If your videos are getting a lot of views, comments, likes, and so on, YouTube will assume they are of high quality. As a result, more of your target audience will see them.
Conclusion
Properly optimizing your YouTube channel can improve your video views, and ultimately bring more customers to your business. However, you can't approach YouTube SEO in exactly the same way you would optimize your content for a traditional search engine.
Let's recap the four steps you can follow to optimize your YouTube videos:
Conduct proper keyword research, including video keywords.
Place your keywords in the video title, tags, and file name.
Write a compelling description that accurately represents your video.
Focus on providing a great user experience to your viewers.
How do you think an optimized YouTube channel will benefit your business? Let us know in the comments section below!