10 White Label Services You Must Be Offering in 2023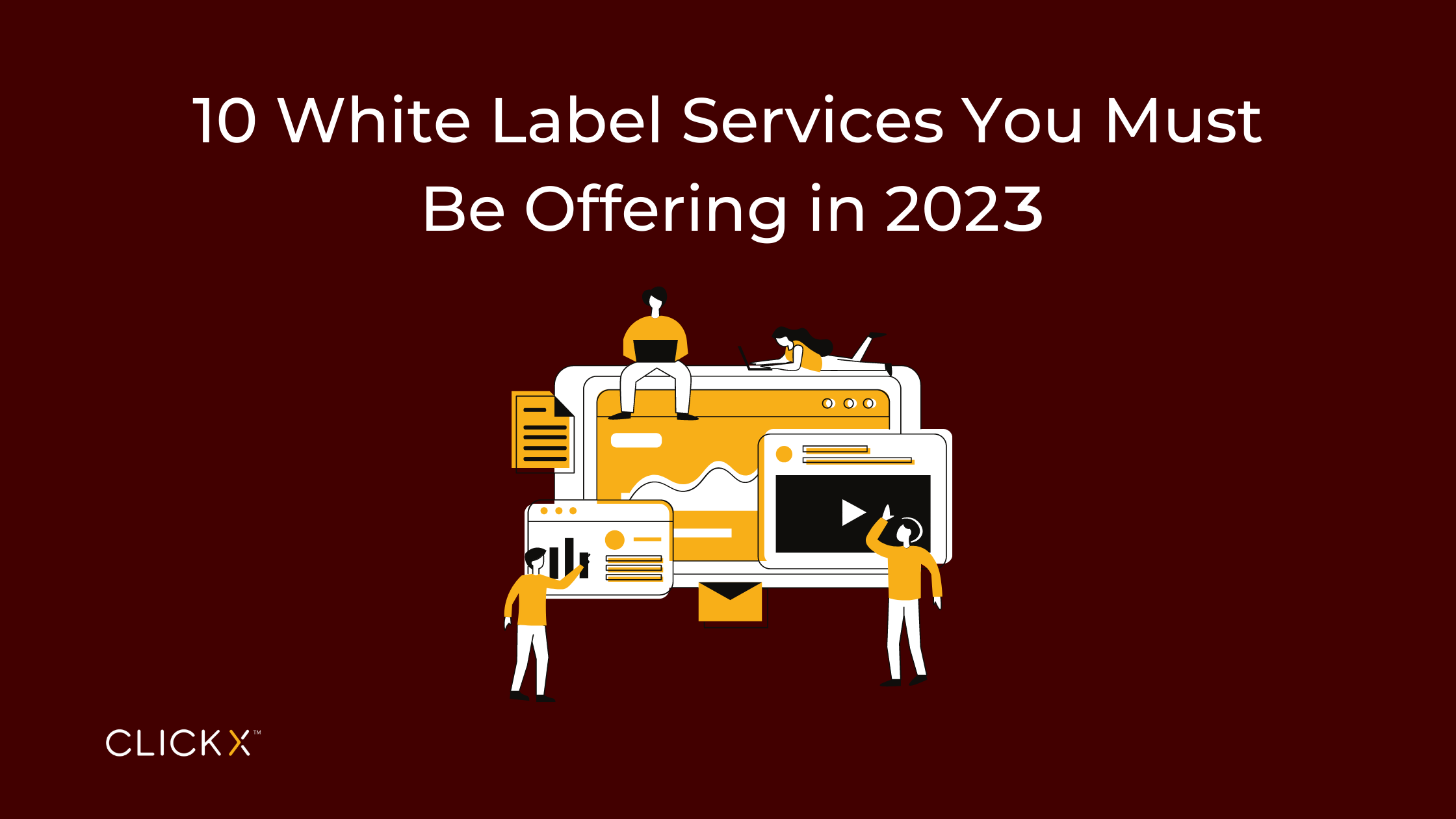 As an agency owner, you know that providing value to your clients is key.
But what about when you need a little help?
That's where white label services come in.
The right white label service will help you offer more without hiring additional employees or executing additional tasks yourself. It also allows agencies to expand their services while decreasing the logistical hassle of adding new offerings.
In this post, we'll take a look at some of the best white label services out there and how they can benefit your agency.
We'll also provide some tips on how to choose the right service.
Let's get started!
Is White Label the Secret Weapon of Modern Agencies?
Starting an agency can be tough.
First, you must master the art of client acquisition.
Then, you must learn how to provide clients with a high-quality service.
Finally, you must learn how to manage client relationships and secure future business.
And that's just the beginning.
You must also constantly be on the lookout for new ways to add value to your clients.
With all those moving parts, it's easy to see how a little help could make all the difference.
White label services provide agencies with unique tools to offer their clients more value. As a result, white label services have become a big part of the agency landscape.
A white label helps you start and grow an agency, even if you lack the knowledge and expertise to execute a specific service on your own.
In the past, white label services were limited to technical or creative offerings.
Today, you can find a white-label service for nearly anything.
Let's cover some of the most popular:
1. SEO
Roughly 6 out of 10 digital experiences start with a search engine. This is one of the reasons 61% of B2B brands state SEO drives more leads than any other initiative.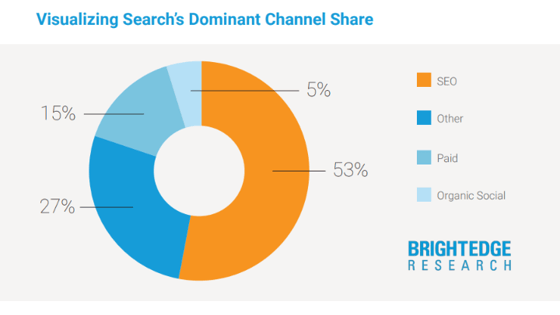 What does this mean for you?
If you want to attract more clients, offering SEO is a must.
But doing it yourself is time-consuming and expensive.
That's where white label SEO comes in.
With white label SEO, you can offer stellar SEO services without building your own in-house SEO department.
All of the heavy liftings happens behind the scenes, while you reap the benefits.
SEO services might include:
Keyword research: A white label SEO provider will perform comprehensive keyword research to uncover the most relevant keywords for your client's industry.
On-site optimization: If you want to secure a high ranking for a client's website, you must optimize each page with keywords and metadata.
Backlink acquisition: The more quality backlinks a site has, the higher it will rank.
Content marketing: To make people want to visit a website and stay awhile, you need to offer valuable content.
2. Social Media Marketing
Half of buyers use social media to learn more about brands, according to research.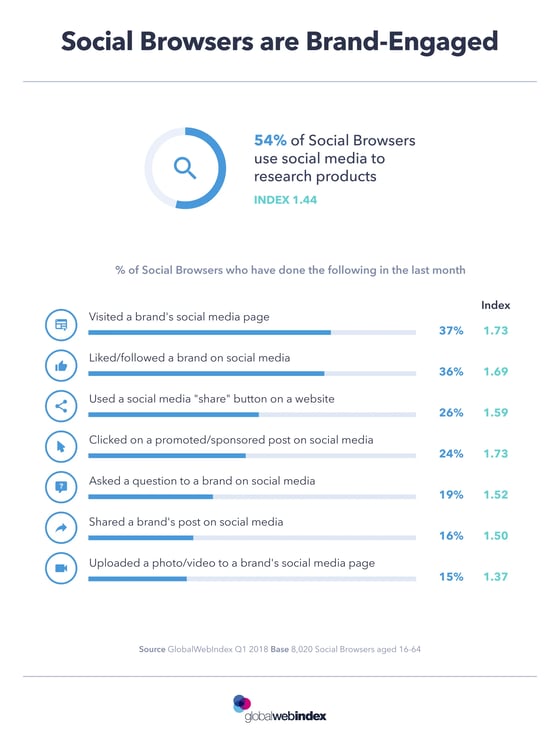 By integrating social media marketing into your service offerings, you can help clients build strong relationships with their customers.
Offering social media services without managing the day-to-day grind of running campaigns is the secret behind white label social media marketing.
Some of the most common services you should offer include:
Social media monitoring: Keep tabs on what's happening across key social channels.
Social media training: Show clients how to get the most out of social marketing efforts.
Posting and updating: Update client accounts and post-engaging content.
Customer service: Answering questions, resolving issues, and managing other customer service tasks.
3. Email Marketing
Email is still HUGE.
Statista suggests there are over 4 billion email users, and that number is expected to continue growing.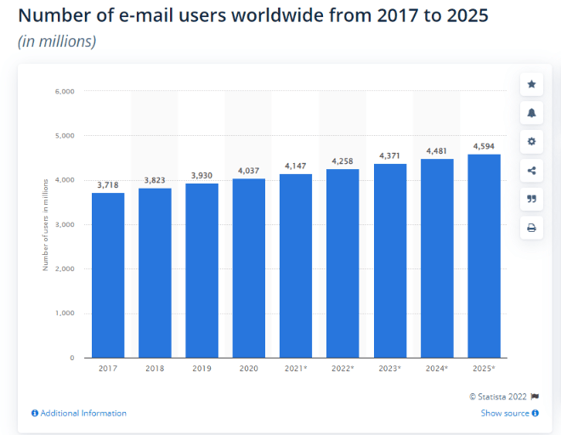 An even more surprising stat states that 40% of marketers would rather stop using social media than email .
That's because email is one of the most effective digital marketing tactics available.
But without proper staff or training, many agencies struggle to make email marketing a priority.
Enter: White label email marketing.
If you want to offer clients the benefits of an in-house email marketing team without actually managing a team, white label email marketing is a must.
Services include:
Lead nurturing: Nurture leads via email, creating a personalized experience for each prospect.
Seasonal email campaigns: Create campaigns for holidays and other major events.
Continued email marketing: Inform clients about new products, services, or sales. Extend relationships beyond the sales funnel.
4. Web Design and Development
Marketers can't be effective if they don't have a platform to launch their campaigns on.
This is where web design and development services come into play.
White label web design and development allows agencies to build better relationships with clients. Clients can get a website they love without you having to create it from the ground up.
If you don't have extensive knowledge of HTML, CSS, and other web design languages, white label services can be a great way to offer clients expert website services without becoming an expert yourself.
Services include:
Responsive web design: Create designs that work on any device, platform, or browser.
Web development: Build sites from the ground up.
Site audits: Analyze existing sites and find areas for improvement. Identify site-wide issues, such as broken links or faulty code.
5. Video Marketing
Video is one of the fastest-growing digital marketing channels today.
But creating video content isn't easy.
Add to this the fact that video content is expensive, and many agencies struggle to make it a priority.
Offering white-label video production services gives agencies the opportunity to offer clients expert video marketing services without having to create videos themselves.
Services include:
Video content creation: Produce videos using a variety of techniques and styles.
Video editing: Edit video content to ensure it's high-quality, engaging, and on-brand.
Video distribution: Ensure clients can publish and share videos across various social channels and other platforms.
Video scriptwriting: Create compelling scripts for clients to work from.
6. Analytics
One of the best ways to improve your marketing efforts is by analyzing data.
But many agencies don't have the time or expertise to learn advanced analytics programs.
If you want to offer clients advanced data insights without digging into the nitty-gritty yourself, white-label analytics services may be for you.
Services include:
Advanced data analysis: Offer clients detailed reports on data like user behavior, site traffic, and ROI.
Data visualization: Turn complex data into clear-cut visuals that clients can use to inform decision-making.
Data modeling: Assess data and determine what changes need to happen for continued success. This may include recommending new KPIs and updating client strategies.
7. PPC Campaign Management
Because search engine marketing costs money, many agencies take a "spray and pray" approach to PPC campaigns.
They bid on keywords they think clients will be interested in, then let the ads run without adjusting them for clicks, impressions, or conversions.
If you want to offer clients a more hands-on approach to PPC without investing your time, white label PPC campaign management services may be ideal.
Services include:
Ad copywriting: Create compelling ads that attract clicks.
Bid management: Adjust bids to ensure clients get the most out of their PPC campaigns.
Landing page optimization: Ensure clients' landing pages are optimized for conversions.
8. Conversion Rate Optimization
Just because a client has a strong PPC campaign doesn't mean they're achieving the best results.
CRO is the process of optimizing clients' websites to increase the rate at which they convert visitors into customers.
As CRO is an in-depth process, it's not something many agencies can offer to clients.
If you want to offer clients expert CRO services without having to go through the process yourself, white label CRO services may be right for you.
Services include:
Landing page optimization: Ensure clients' landing pages are optimized for conversions.
On-page testing: Optimize client websites by testing elements like calls-to-action and layout.
Off-page testing: Improve site performance by running tests on related websites and platforms.
9. Lead Generation
Running an effective PPC campaign isn't always enough.
While clients may get more clicks, drive higher traffic, and increase revenue, their business won't grow unless they can turn traffic into leads.
This is where lead generation comes in.
Lead generation services help agencies find their clients' target prospects, then contact them to generate sales-ready leads.
If you want to offer lead generation as a marketing service, white-label lead generation services can be ideal.
Services include:
Research and data analysis: Find prospects by searching for specific terms, then verifying whether they're a match.
Lead list generation: Collect the contact information of potential clients using online forms, online business directories, and email marketing software.
Data enrichment: Gather more information about the prospects you've identified to give clients a fuller picture of their target audience.
Lead scoring: Prioritize leads based on their likelihood to convert into clients, then give them a score for clients to track.
Contact outreach: Send the leads you've gathered personalized messages to entice them to convert.
10. Fully-Managed Sales Services
Once your clients have leads, they'll need your help converting them into paying customers.
As many agencies don't have the resources to scale, they rely on junior staff to manage sales campaigns.
By white-labeling your agency's expertise, you can offer FMS services that help agencies scale their revenue without investing in additional manpower.
Services include:
Account management: Maintain relationships with clients and prospects alike to ensure campaigns stay on track.
Sales execution: Reach out to leads and close sales to ensure new business is generated.
Lead qualification: Verify whether leads are ready to buy, then prioritize them accordingly.
Opportunity management: Track metrics like estimated contract value, the probability to close, and win rate.
Reporting: Provide clients with regular reports outlining their ROI.
How Can You Choose the Right White Label Partner?
Of course, the quality of your white label service depends on whom you partner with.
There are many providers out there offering low-quality services.
You don't want that.
How can you separate the high-quality providers from the low-quality providers?
Join a white-label fulfillment platform with a proven track record.
Experience counts.
For instance, with Clickx.io, you not only get access to a wide network of trustworthy providers. You also receive advanced reporting and quality training.
Besides, thanks to Clickx.io's white-label fulfillment platform, you can provide your clients with quality services without having to source providers on your own.
No matter which white label services you choose, you can ensure your clients enjoy the best experience possible.
To see for yourself, you can explore everything we bring to the table here.